Clients and friends,
I wrote you a while back that I went to Dan Kennedy's Mailbox Millions 2.0 in Cleveland. I received deep insight to understand the nuances of direct mail and how to get people to read and respond. I've packaged this all up for you, tested it, and ready to implement it.
I'm excited to announce we've upgraded our monthly direct mail service.
Instead of a monthly postcard, we will now create a one-page newsletter for you.
Here's what it looks like for our client Ashley Carter: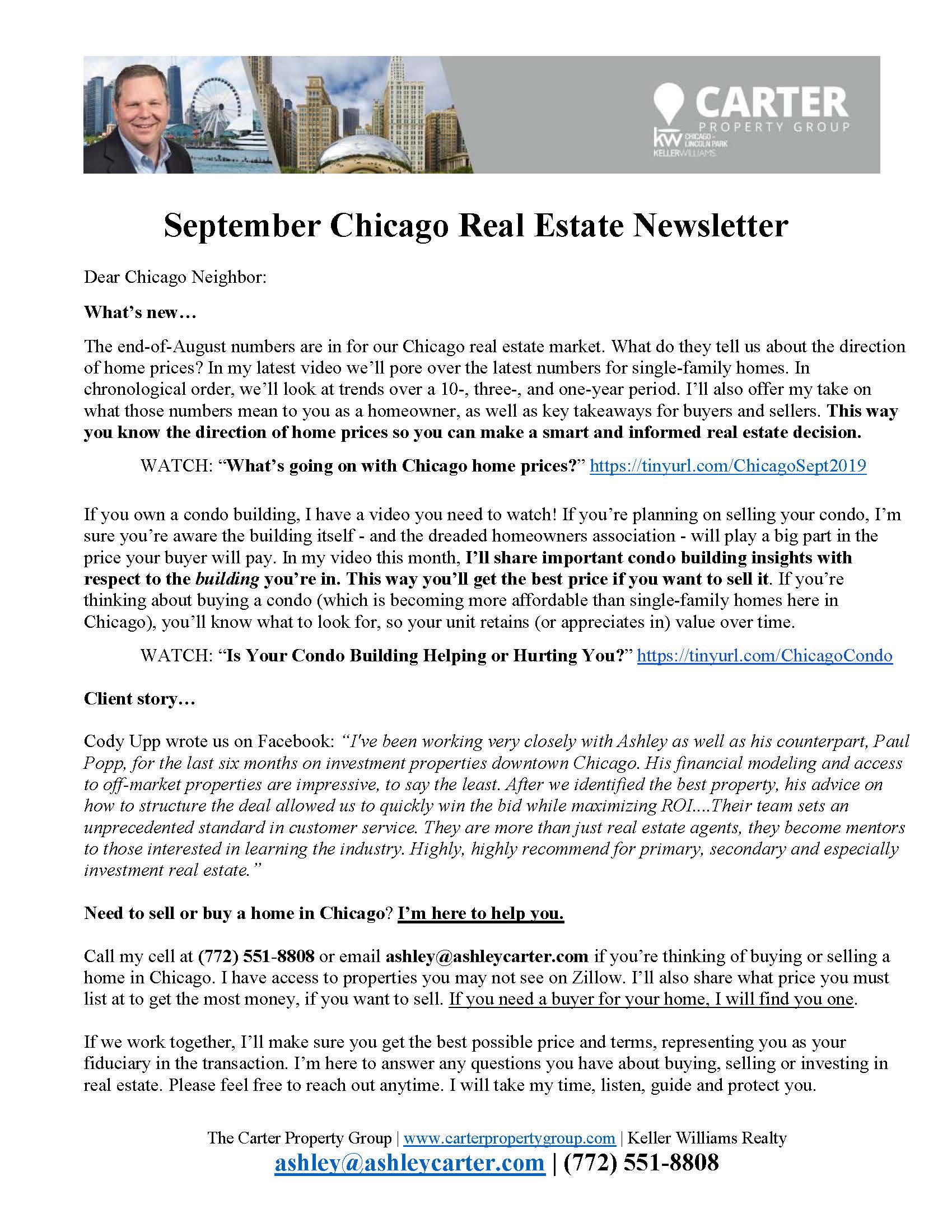 This is an example of a newsletter my wife Katy sends to her database monthly: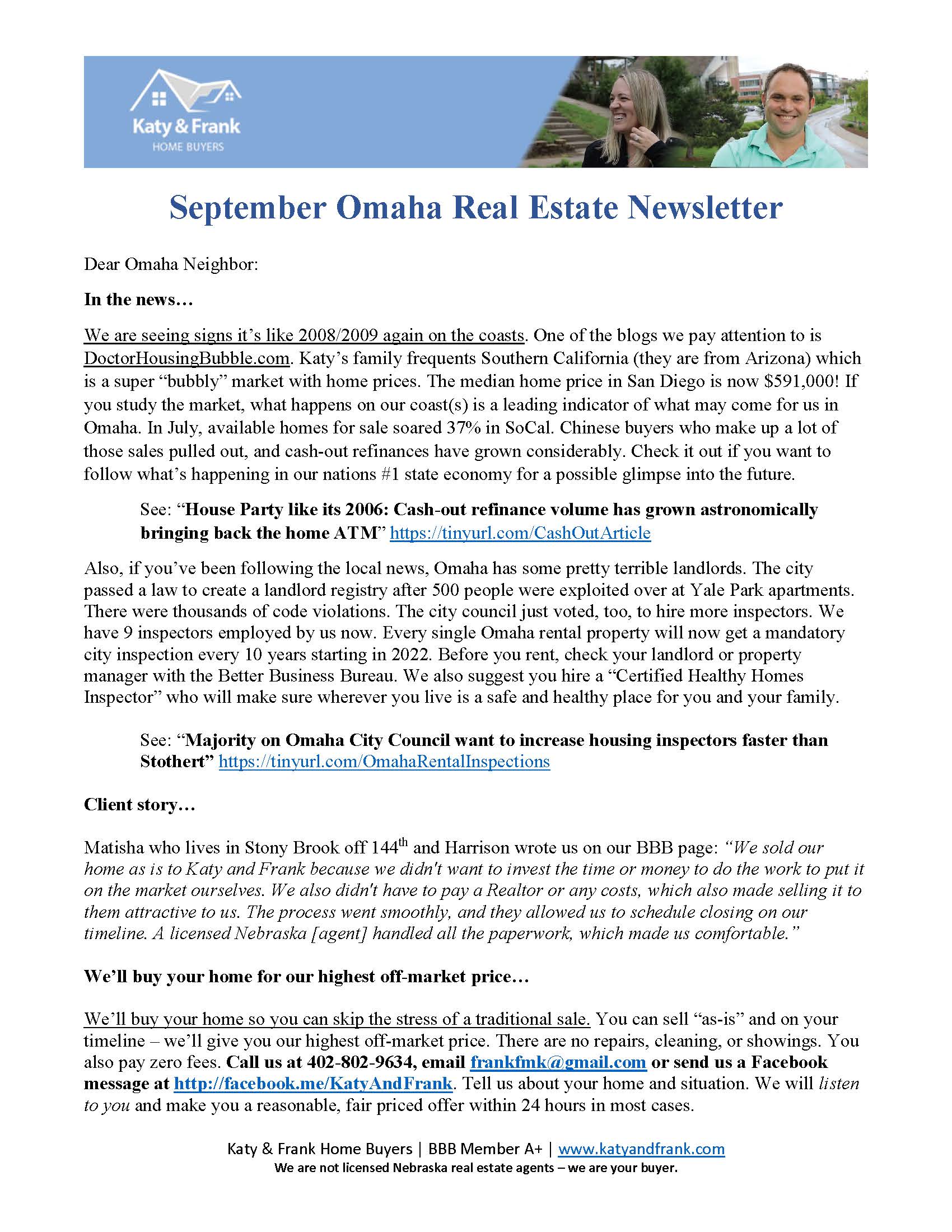 The above newsletter went out last week to Katy's seller lead database 14 days after her email. Three homeowners called and set appointments. They got the e-newsletter, but responded to the mail item.
It must be 100% personal mail. No logo or teaser copy on the envelope, just your return name and address. It needs to go into the "read" pile, not the "trash" pile, since America sorts its mail over the waste basket. It should not look like junk or business/commercial mail.
Here's what the letter should look like (it's a real scan with smudge and all).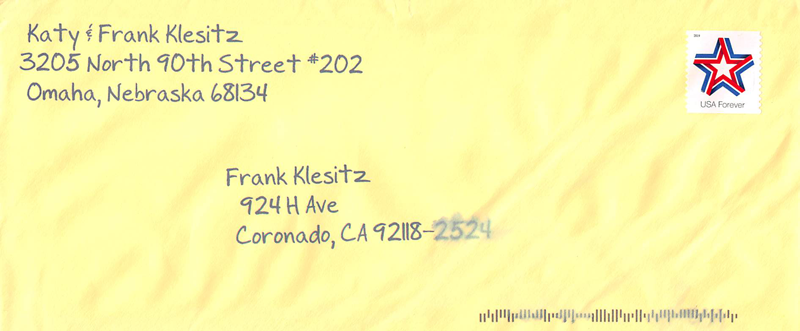 Inside, keep it simple and personal. "Write as you talk." Your content must be insightful, relevant and useful – something so good people would pay money to receive.
The feeling it should create is that of on a rocking chair with a friend on your porch having a friendly conversation to pass the day. (Want the best example of this? Go here, scroll down, and read Gary's letters. They are incredible.)
Here is the magical formula for response:
70lb Paper, White
Laser Color
No Mail Merge
#10 24lb Non-Window Envelope, color
Hand addressed envelope print, blue ink
Personal return address
No logo on the envelope
First class postage
Real peel and stick stamp
News commentary or two videos
Client success story
Call to action
Use all the space. Ink is cheap. Postage is expensive.
Masthead with your photo/logo
Shortened PURL for long web addresses
Mailed to your warm leads, sphere, and past clients monthly
Mailing addresses are CASS and NCOA updated
Trackable number in the newsletter (we like CallRail.com)
The creative to make your newsletter is included in your Vyral Marketing fee.
Your printing and postage run about $.80 - $1.00 each depending on volume. We will handle that for you. 50 pieces minimum. No markups. We pass the cost direct to you.
Do not mail your entire list. It's too expensive. I suggest you start sending a monthly print newsletter to your past clients only. Then, if you can afford it, send it to your sphere and your warmest prospects too. The most effective direct mail list segment has only a few hundred people. Everyone gets your digital marketing, only the best get your direct mail.
This is important. You'll only hit, if you're lucky, 30% of your database with digital. You'll reach the rest of your database with direct mail and phone calls. No one is going to open your mail and "disapprove" it, nor will you be outbid on the price of a stamp to get in the mailbox or stopped by a spam filter. You can say as much as you want, not limited to 280 characters.
Make sure you're capturing email addresses and USPS mailing addresses and adding them to your database. That way we can use email/social media and direct mail to stay in touch.
We can create a second page in your newsletter for your sponsor who you can ask to pick up the cost of your direct mail. This is called "getting a free ride" in the industry. We recommend they have a monthly Q&A column for the second page.
That can be a simple phone interview with your sponsor. Send the recording to us and we'll write it up.
You have the best 36 touch program in the industry – two videos a month sent to your database by email and social media (boosted to your email list), a monthly item of direct mail, and our new done-for-you database calling service to talk to the people who watch your videos.
It's all there. The results are incredible.
Let us know if you want to get your direct mail going…
Frank Klesitz