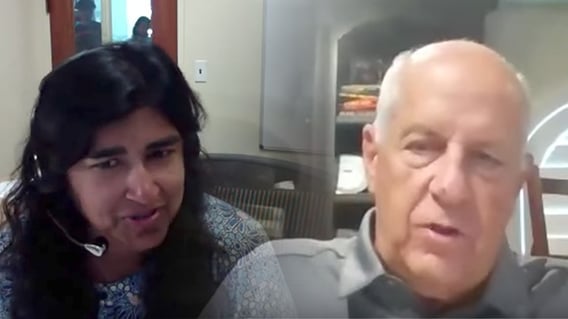 Clients and friends,
I have two really important interviews for you this week.
These videos will greatly increase your income - there is no question. I've made them required watching for all our employees at our firm to help you.
First, I interviewed a great real estate client of ours for years in Portland - Sarita Dua - on how she earned $1.58 million in commission income last year, of which 78% came from referrals.
That is incredible. So, what's the insight?
She speaks with 20 past clients and people she knows a day. She's not calling strangers, she's not cold calling, and she's not following up with unmotivated leads.
Sarita is only calling people she knows to ask them how she can help them while her videos keep her in front of her database so people see her as the trusted expert who can help them.
The key insight is Sarita loves her profession, she's helping people, and she's getting referred systematically which brings her peace of mind.
She knows exactly where her next client will come from since her business is built on the foundation of relationships, not sales and transactions.
Imagine if you went through your Facebook, LinkedIn, and mobile phone and systematically talked to 100 people a week who knew you, simply to ask how they are and if you can help them with your skills?
That is just incredible. Anyone can do it, but not everyone does.
That's how you build a great professional service business. It's also how you become a millionaire with the peace of mind not being held hostage by lead providers, the people who work for you (who leave and take business), or your competition competing for the same stranger's attention.
In the interview, you'll learn exactly how Sarita earned that much money (by helping a lot of people) with the marketing support of sending out educational, helpful videos to her database.
Here are a few stories of results she shared with me…
"I was at a listing appointment from a buyer client from many years ago who was planning to sell. When I mentioned it is a Seller's market and the inventory is low, she said 'I know. We are at 1.3 months of inventory. I watch your videos!"
"I was flying to a conference and at the airport my phone rang. It was a colleague from a Business Networking group I was in about 6 years ago. She said 'Hey we are selling and want you to come list our house". I was shocked as I hadn't talked to her in 6 years. I felt I hadn't stayed in good touch with her. I asked how she remembered me and THANKED her for remembering me. She said 'What are you talking about? I watch your videos – I felt like you were talking to us!' The videos work!"
"My team member (who has been with me for four years) recently came up to me and said he is getting pre-approved to buy since rent has been so expensive. I said you know, I just shot a video about that- it is a great idea. He said "I know, it is because we watched your video that we came to this realization!") I mean I work with the guy – we could have talked about this a million times and we did not. But the video got the message across and inspired action!"
Second, I interviewed Tony DiCello, one of the top real estate agent coaches in the industry.
For those of you in real estate, you've likely read "The Millionaire Real Estate Agent" book published in 2003 where the model of staying in touch with your database a lot - up to 33 times a year - became common teaching.
Now, in 2017, Tony shares the officially updated "36 touch" lead generation model and database marketing model to be in the updated edition in the future, which consists of:
2 educational videos a month

4 phone calls a year

4 direct offers a year

2 client events a year
We've been covering this plan for years in our Official Video Marketing Plan.
If you need help with any of this, contact us.
We'll implement it for you. All the details are on our website, and if you're a client, you can speak with me personally anytime for guidance on how to get the best results in addition to our great team here for you.
Just email me if you have questions. I read and respond to every message.
Thanks for reading my messages, I put a lot of work into them so they are useful. I want you to grow your business, and do it in a way that brings you joy.
Have a great weekend!
We appreciate you!

Frank Klesitz, CEO
Vyral Marketing