For the week ending July 24, 2020
Featured Client Video of the Week
Why Are People More Willing to Buy During the Pandemic?
by Vyral Client Brandon Montemayor in Santa Clarita, CA
This is a great example of a Q&A style video. Brandon zones into one specific question and breaks it down into three points.The content is current, relevant and useful for his clients. Brandon lets his personality shine through and keeps it natural, as if he's answering this question for someone in his office. Keep it up, Brandon!
Watch his video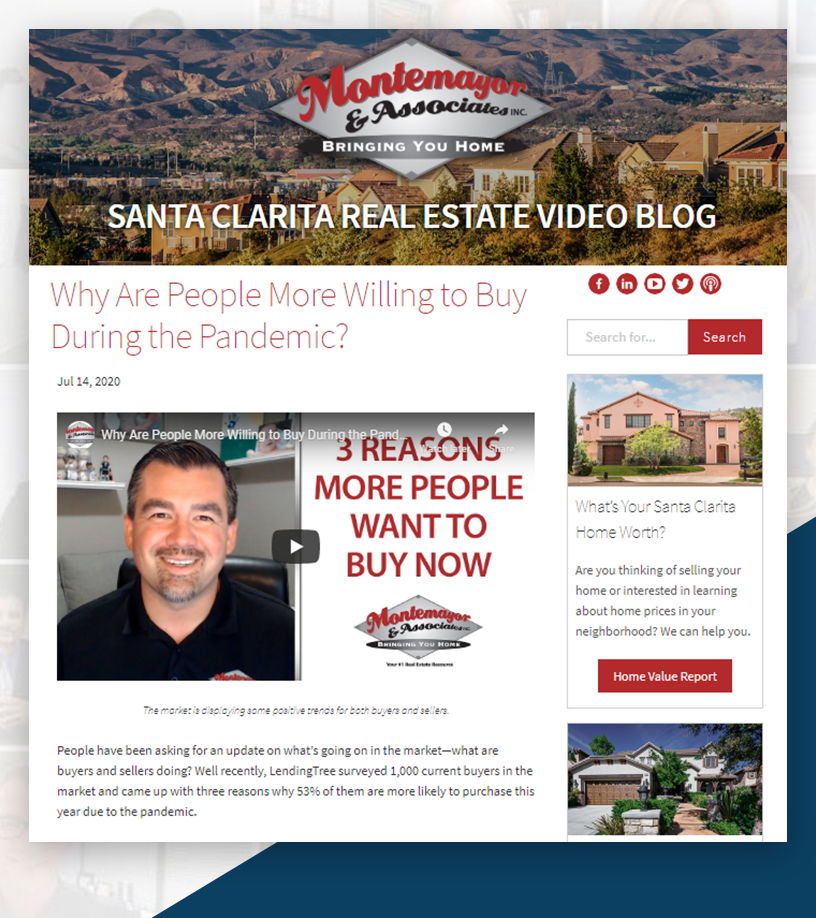 ---
Marketing Classroom Snippet
How to Write a Reconnect Email to Your Database
with Frank Klesitz, CEO Vyral Marketing
Once you have your Gmail, Outlook, CRM, Facebook, mobile phone and all other contacts exported, de-duplicated, scrubbed and loaded into an email marketing system (we love MyEmma.com), it's time to send them a warm reconnect email message. In our Classroom this week, Frank shares the psychology behind how to craft this email to appeal to literally everyone you know. Here are a few tips from class on how to write it, with the example message he shared in class for clients.
---
Popular Real Estate Topics
What got response for real estate clients this week
by Kourtney Clines, Head Marketing Consultant


1. Which costs are homebuyers responsible for?
2. What is an escalation clause?
3. Why is NOW the best time to sell?
---
Client Success Stories
Bob Sokoler had a seller seminar success
by John McMillan, Co-Founder of Vyral Marketing
Bob Sokoler in Louisville, Kentucky sent out an invitation to his virtual seller seminar. Bob hadn't had a ton of success with in-person seminars in the past. This time, he decided to go virtual and followed the plan Vyral outlined in one of the Client Classroom Trainings. After sending out his video and invitation, Bob had 10 people register for his event!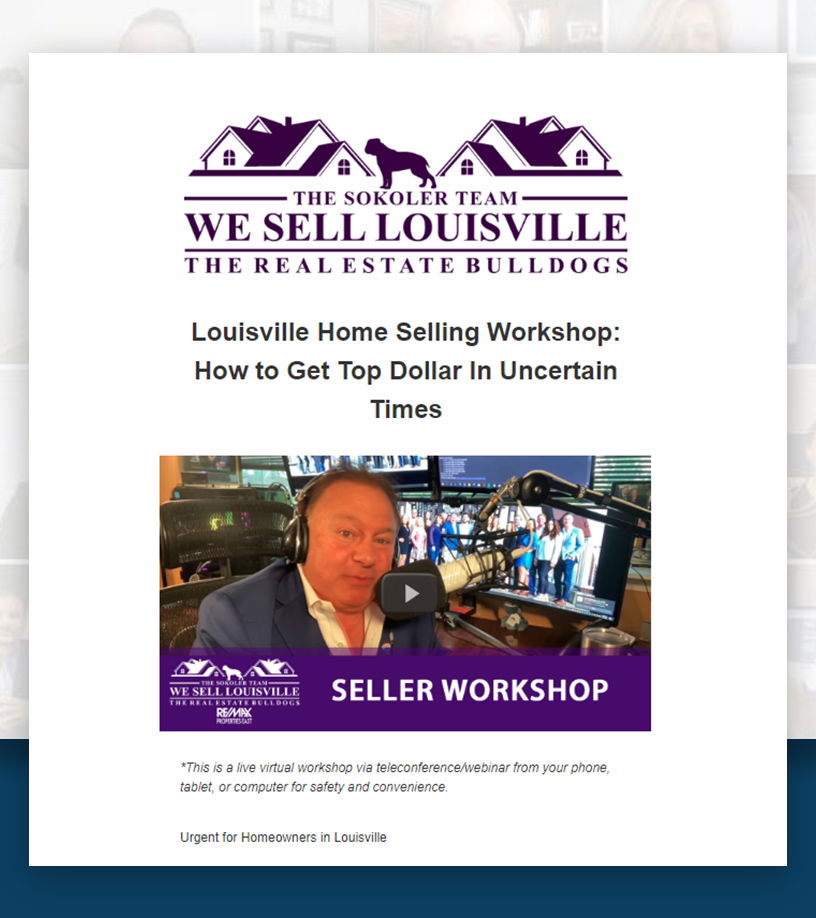 ----
New client, Rene Ahmad is setting appointments
by John McMillan, Co-Founder of Vyral Marketing
Rene Ahmad in Toronto, Ontario just started working with Vyral last month. After we cleaned up his database, we helped him put together a Facebook re-targeting ad.
We loaded his cleaned list as a custom audience in Facebook and targeted the message to his warm leads. Rene has already set appointments this month directly from this ad.
His initial reconnect email was sent out and Rene was able to set a listing appointment from someone responding to his personal message. We can't wait to see what else you can do, Rene!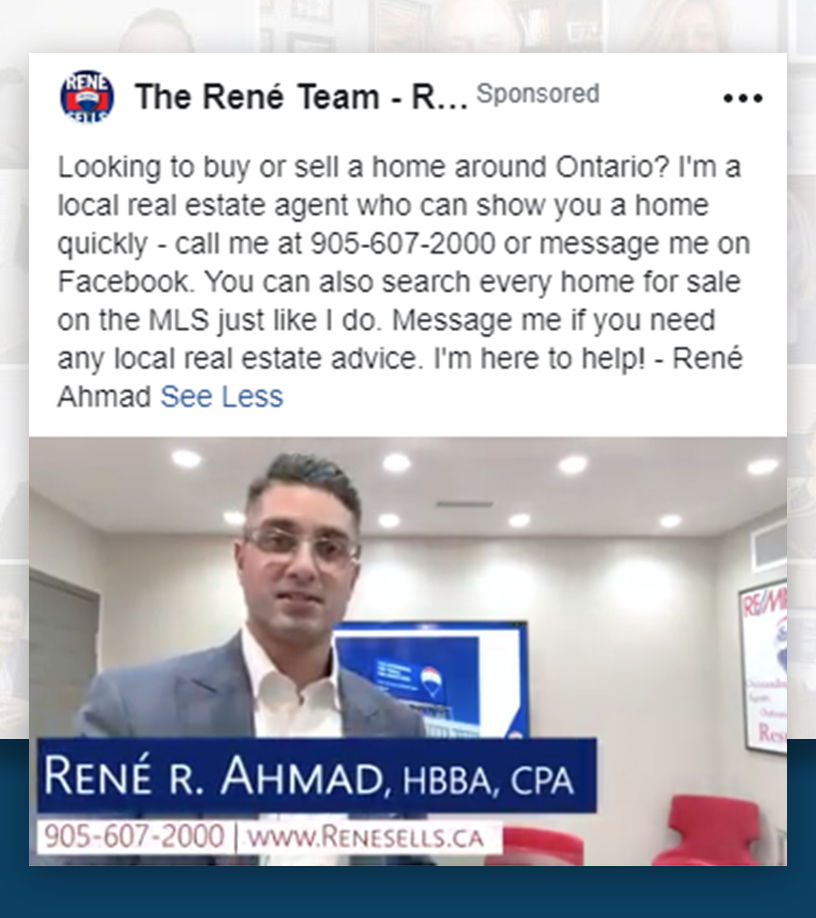 ---
Latest Client Reviews
More nice things clients have told us this week
by Elizabeth Stormberg, CMO of Vyral Marketing
"Since we started the Vyral Marketing Recruiting Course in January 2020, we have hired five or six agents and we're also building a consistent pipeline of non-licensed agents and licensed agents, so we'll be crushing our agent goal for 2020."
"Vyral provides a very simple service that many "try" to remain consistent with on their own. As one of those who thought "i can do this" on my own i was VERY inconsistent. Vyral DELIVERS on everything they say they will do and more. I feel very much like i have a marketing partner and their ideas and concepts are so valuable to someone who is extremely busy in the day to day. The community of people is also amazing with a wealth of knowledge."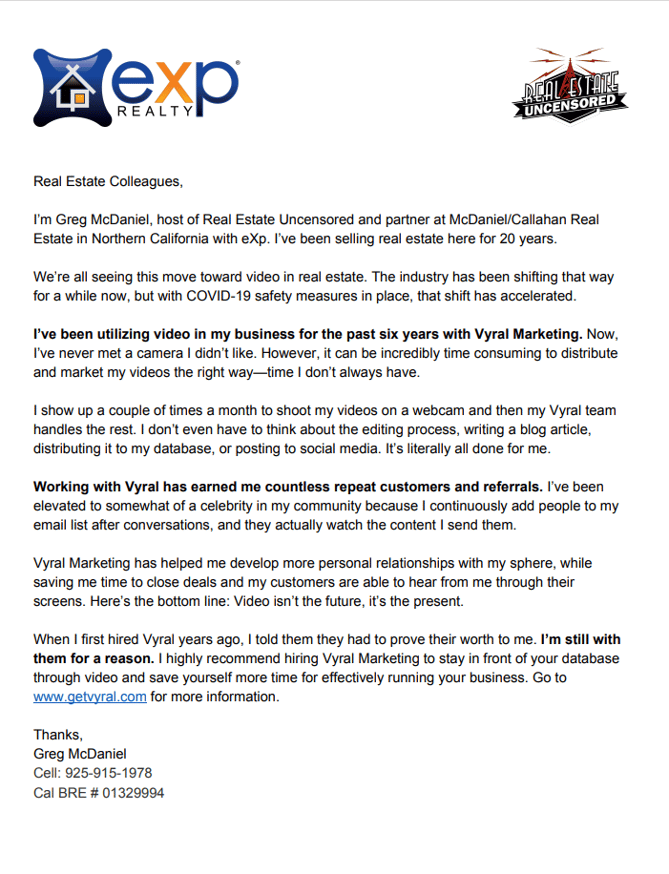 ---
We're here to help when you're ready
You'll learn how we can help you get more sales from your database with done-for-you video, email and social media marketing to your #1 business asset - your past client, sphere, and lead database.