For the week ending July 31, 2020
Featured Client Video of the Week
"Should I Install Solar Panels or Hardscaping?"
by Vyral Client Jeff Wheatley
In this video, Jeff starts with a short story about why he's answering questions about solar panels and hardscaping - real questions that came from his clients. Jeff demonstrates expertise beyond basic buying and selling questions, appealing to current homeowners (as well as sellers). His lighting, sound, and presentation are excellent. Well done Jeff - you made our featured client video this week!
Watch Jeff's Marketing Video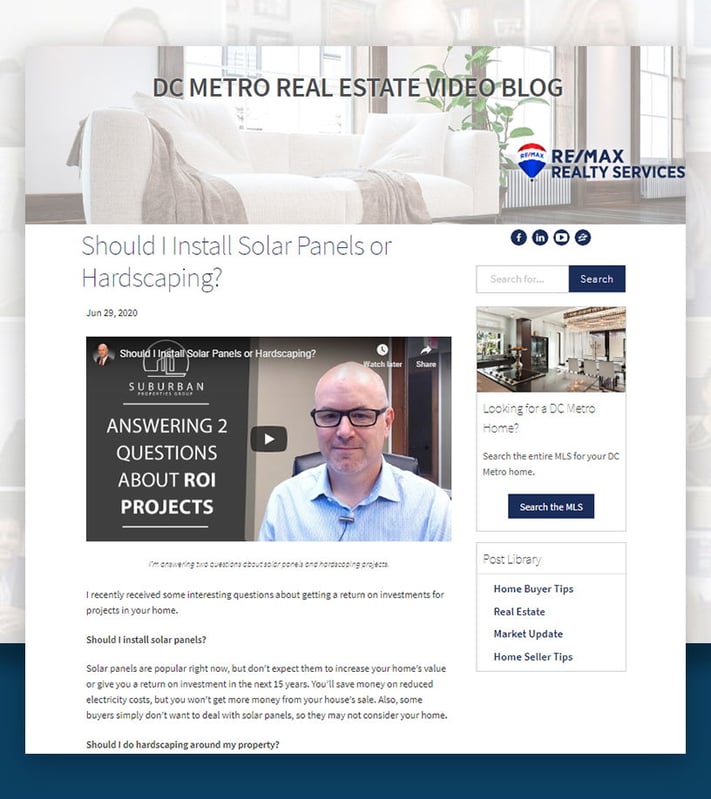 ---
Marketing Classroom Snippet
Including Your Team Members in Your Marketing
with Frank Klesitz, CEO Vyral Marketing
In this week's lesson, Frank covers how you can include your team members in your video marketing to maximize exposure and, ultimately, leads. He shares the best ways to get your team on board by re-branding your video blog as a team newsletter and including their contacts in your distribution lists. Clients, log-in to watch the full lesson.
Here is the Classroom Syllabus for the rest of the month:
Module #2: Seller Lead-Generation
August 3: Buying a "likely to sell" homeowner list
August 10: Sending them direct mail so they call you
August 17: Hiring a calling assistant to prospect for you
August 24: Facebook® ads so they respond you
August 31: Outbound, cold email so they reply to you
---
Top 3 Video Topics for Response
What worked for real estate clients this week


1. Which mortgage assistance programs can help you?

2. What are the 3 biggest factors impacting the market now?

3. How do you set the listing price of your home?
---
Client Success Story
Erick Toth saw a huge response from his first video
One of our newest clients, Erick Toth in Tampa, Florida, is utilizing our database marketing plan for his security alarm business. Erick joined Vyral as an addition to his grass-roots sales techniques. He's built great relationships with his clients and needed a way to continue those relationships as his business grows, leaving less time to speak on the phone with everyone. He received great response to his first video email he sent to his database. After sending out his first educational video, Erick had a 38% open rate on his email and over 100 clicks on his call-to-action links. Erick will now call, follow up and report back his referrals and appointments set from the most engaged people in his database who already know him.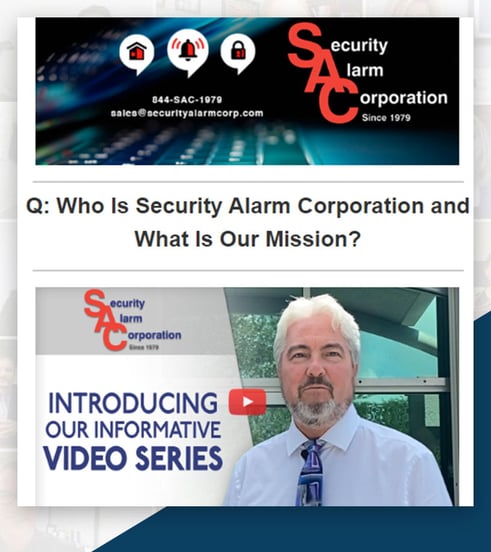 ---
Client Reviews & Stories
More nice things clients told us this week
TESTIMONIAL: "I can kick myself for waiting to hire Vyral. I have sat on the sidelines, reading Frank's emails for a few years. I finally hired Vyral and they have been amazing. We worked our database but not like what Frank teaches. We have referrals coming in that would have never been received in the past. The client experience is also amazing. If you want to transform your business, hire Vyral today! Truly the Ritz-Carlton of Marketing!"

-

John Salkowski | The JRS Real Estate Group"
STORY
: Wayne was only communicating with his past clients and sphere through Facebook®. He joined Vyral and scored a
$1.2 million
deal as a direct result of his initial reconnect email message we send out when you first become a client. Great job Wayne! - Wayne Johnson | Wayne Johnson Real Estate
TESTIMONIAL:

"Vyral Marketing's customer service is superb! Carl and Elizabeth are very professional and respond very quickly. Two thumbs up!" -
Tom White | The Tom White Group
REPLAY

: Club Wealth Marketing & Technology Summi

t



A special thank you to Michael Hellickson for inviting Frank to speak at this event. Watch the replay of Frank's talk on "How to Get More Commissions From Your Database."

---

Get More Sales from Your Database
We'll help you get more sales from your past client, sphere, and warm lead database with done-for-you video, email and social media marketing. It takes minimal time. You also get our 90-day 100% money back guarantee so there's zero risk of losing money if you're not happy for any reason.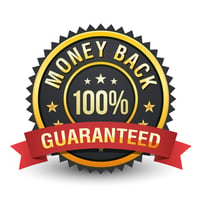 Let's talk about the results you can reasonably expect with our Official Video Marketing Plan we'll implement for you.