For the week ending August 8th, 2020
Featured Client Video of the Week
"How's Our Market Amid COVID?"
by Vyral Client Sam Stevens
This is a perfect example of a quick market update. Samantha Stevens in Boise, Idaho, delivers all of the statistics buyers and sellers that want to know in a three-minute video. Samantha translates intimidating real estate jargon into understandable terms for her audience. Throughout the video, she keeps eye contact and isn't reading off of a script. She's well lit and positioned according to the magical "rule-of-thirds" ratio. Samantha- this rocks!
Watch Sam's Marketing Video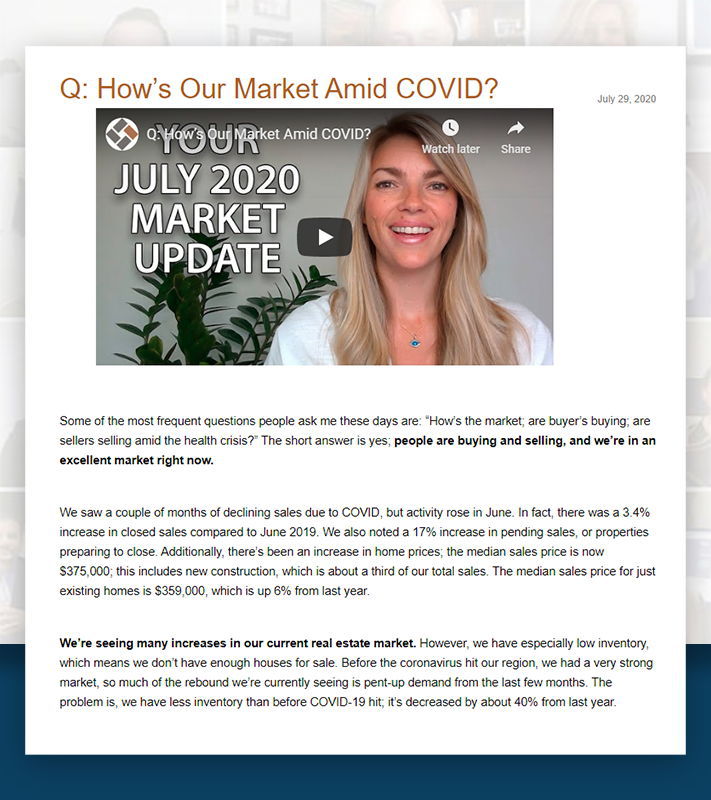 ---
Marketing Classroom Snippet
Buying a "Likely to Sell" Homeowner List
with Frank Klesitz, CEO Vyral Marketing
In our Classroom training this week, we begin our module on Seller Lead-Generation. In this lesson, Frank covers the best ways to find a quality "likely to sell" homeowner list by using third-party data collection sites like PropStream, Remine, and Melissa Data and resources like the County Clerk's office. He walks through strategies to continuously receive "likely to sell" leads. Clients, log-in to watch the full lesson.
Here is the Classroom Syllabus for the rest of the month:
Module #2: Seller Lead-Generation
August 10: Sending them direct mail so they call you
August 17: Hiring a calling assistant to prospect for you
August 24: Facebook® ads so they respond to you
August 31: Outbound, cold email so they reply to you
---
Top 3 Video Topics for Response
What worked for real estate clients this week


1. Should you have representation when buying a new-build home?

2. How can I prepare my home for a natural disaster?

3. What will our fall market look like?
---
Client Success Story
Scott Himelstein leveled up his database marketing
Vyral client, Scott Himelstein in Granada Hills, CA has always implemented door-knocking as a major part of his real estate business. The face-to-face connection with clients and potential leads was huge for him. When COVID-19 hit and social distancing was put in place, Scott had to restructure his plan.
Scott has been a Vyral client for years and has been consistent with sending out two educational videos a month, but lately he's been stepping up big time. Scott worked with his Vyral team to freshen up his branding and digital presence.
Another piece of the database marketing plan Scott is executing is sending out monthly direct-offer emails to his sphere. He's getting direct responses. Last week, Scott set an appointment with a family that he met in 2016. He hadn't previously worked with them, but added them to his database. After Scott ramped up his communication, they reached out to him to sell their home. He also landed a $900,000 referral from a listing agent in Tennessee who had been following Scott's video blog.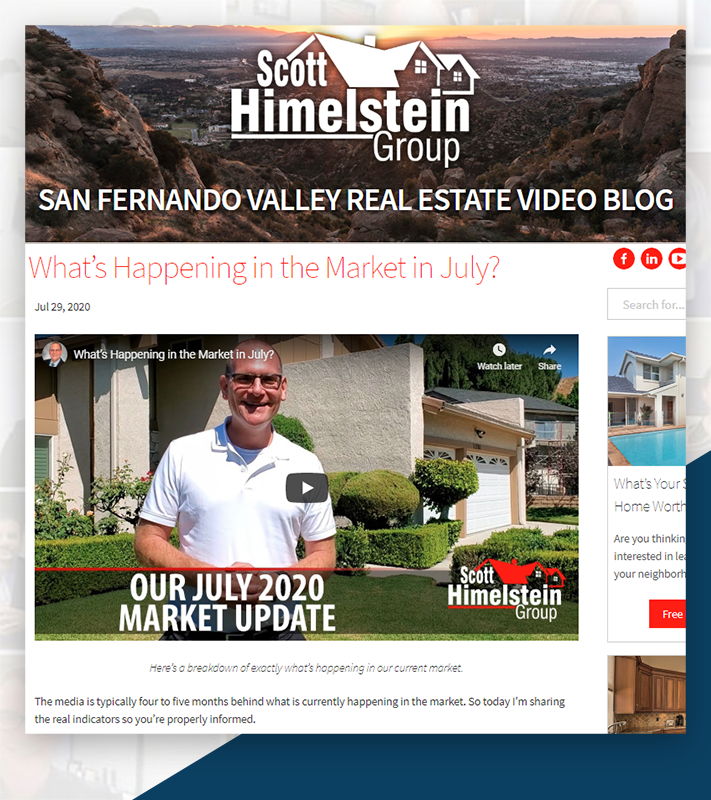 ---
Client Reviews & Stories
More nice things clients told us this week
TESTIMONIAL: "Vyral Marketing is the best value for Marketing in Real Estate PERIOD! I have been working with them for years and they are always stepping up their game to help me step up mine!"
-
Kwasi Bowie | Kwasi Homes
TESTIMONIAL: "I've been working with Vyral for over a year now and have appreciated their staff and the coaching so much! The resources they have provided me and motivation to help me share valuable information with my clients has been PRICELESS!!! I would HIGHLY recommend Vyral Marketing." - Katie Evans | Living 48 Real Estate
TESTIMONIAL: "We find a lot of value in Vyral Marketing. Their systems, tools, and staff are top notch. They have great recommendations on how to get the appropriate message in front of your audience!" - John Nayduch | The Dave Hooke Team
---

Get More Sales from Your Database
We'll help you get more sales from your past client, sphere, and warm lead database with done-for-you video, email and social media marketing. It takes minimal time. You also get our 90-day 100% money back guarantee so there's zero risk of losing money if you're not happy for any reason.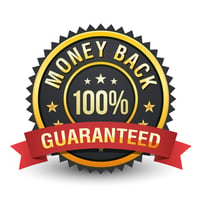 Let's talk about the results you can reasonably expect with our Official Video Marketing Plan we'll implement for you.