For the week ending July 19, 2020
Featured Client Video of the Week
What Are the Pros and Cons of New Build & Resale Homes?
by Vyral Client Sam Levy in Phoenix, AZ
Sam fully explains some of the key differences between buying an existing home and buying a new build. The video is kept under three minutes, but he shares valuable information within that time frame. He's positioned over to the right of the frame and leaves room for text and graphics within the video. The content is educational and his camera presence is welcoming. Nice job, Sam!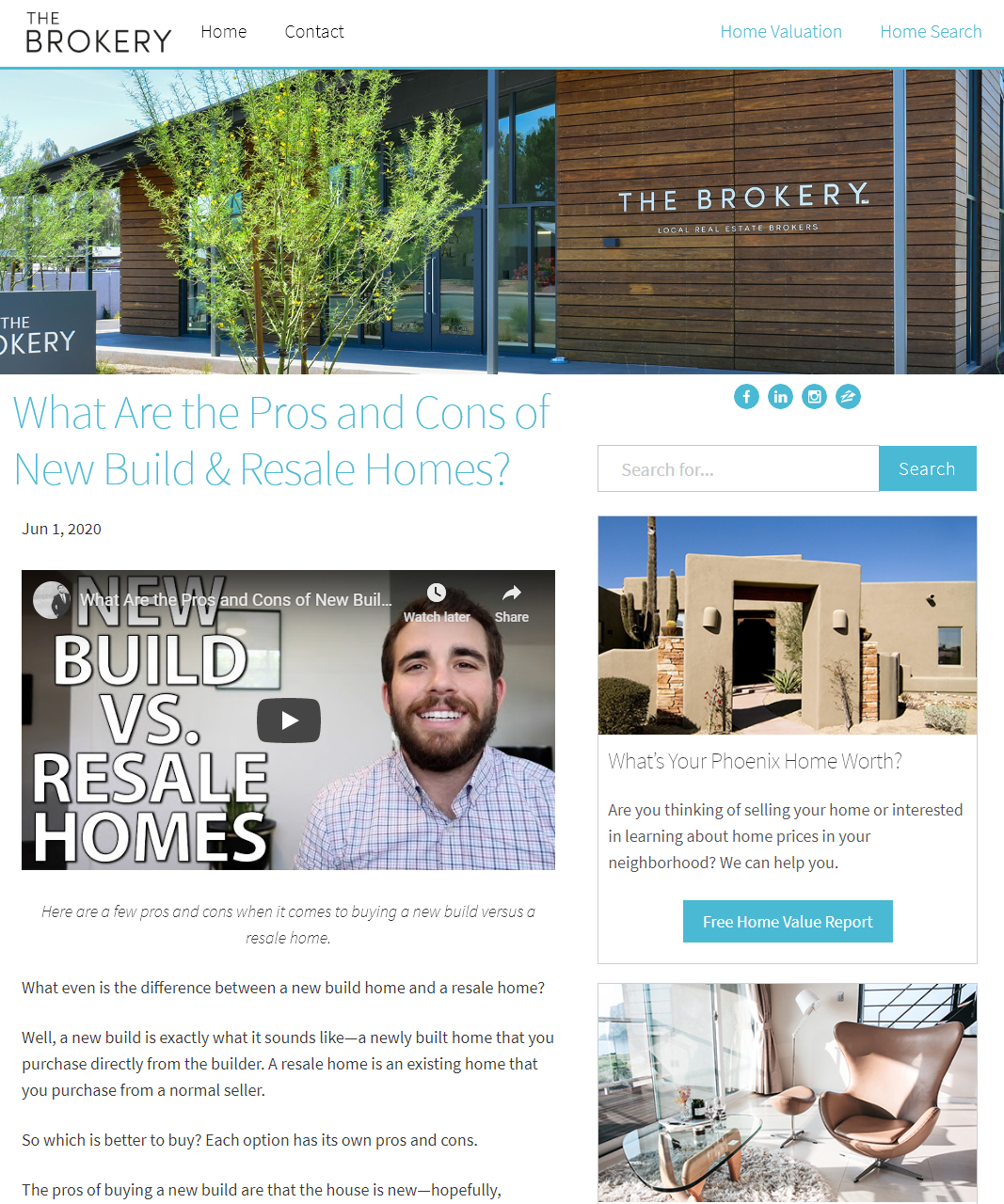 ---
Marketing Classroom Snippet
Updating Missing Phone Numbers in Your Database
with Frank Klesitz, CEO Vyral Marketing
In this segment from our client Classroom training this week, Frank covers popular people search services such as Intellius, Spokeo and Been Verified – along with FCRA regulated skip-tracing sources - such as LexisNexis® Accurint®, Transunion® TLOxp, and Microbilt Enhanced People Search.
---
Popular Real Estate Topics
What got response for real estate clients this week
by Kourtney Clines, Head Marketing Consultant


1. How do I get my offer accepted in a multiple-offer situation?
2. How do I take advantage of low interest rates as a seller?
3. Do I need to stage my home in a seller's market?
---
Client Success Story
Sarita got a listing from her video this week
by John McMillan, Co-Founder of Vyral Marketing
Sarita Dua had taken a break from creating her monthly videos. During the height of the COVID-19 pandemic, Sarita wasn't sending out much real estate content. She knew real estate was not the first topic on her clients' minds. However, as the weeks and months of quarantine dragged on, she was getting more and more questions about how the housing market was being affected.
Sarita filmed a market update at her home in Portland, Oregon. She knew she needed to get the message out to her sphere that the housing market was not mirroring what we saw in 2007-2008. In fact, sale prices were up due to the limited inventory of homes. A day after emailing the video out to her database, she received a text message that led to a listing conversation. This person only considered selling after seeing Sarita's video and getting a good snapshot of the market.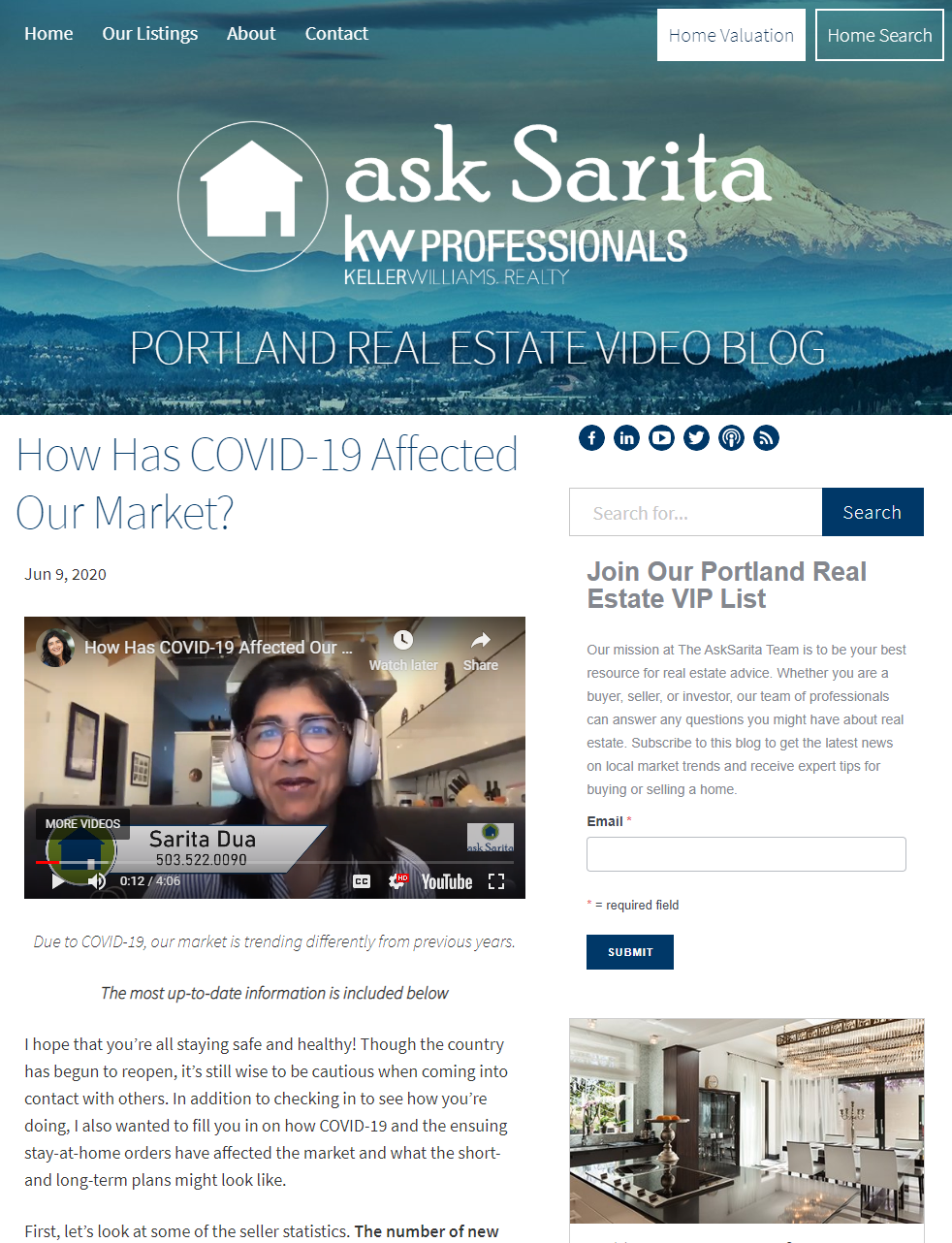 ---
Latest Client Reviews
More nice things clients have told us this week
by Elizabeth Stormberg, CMO of Vyral Marketing
Positive:
Professionalism,
Quality,
Responsiveness,
Value
"I thought I would send you a quick testimonial since coming back with Vyral Marketing. I was a past client for a couple years awhile back. When I was a client I was having the best two years in Real Estate I'd ever had. At that time I was not completely sure of the reason but the numbers didn't lie. It can be sometimes hard to track where business comes from unless you ask and do research. To make a long story short, I received a call yesterday from the Keller Williams broker in my area. A competing broker obviously. Brokers watch other agents production and that's why they called. To my surprise he said they have been tracking my numbers and I'm up 77% over last year at this time. I shared this info with Ashlee and gave her my numbers. She recommended a quick testimonial for Vyral. Here they are rounding out. As of June 2020 my gross commission is $174,000. As of June 2019 my gross commission was $46,000 and ended my year at $164,000. All I know is I came back in November of 2019 with Vyral and here is the proof of what Vyral can do for an Agent. The numbers don't lie. Ashlee is amazing and very patient with someone like me who is not tech savvy and my strength is in sales. Thank you for everything you do!"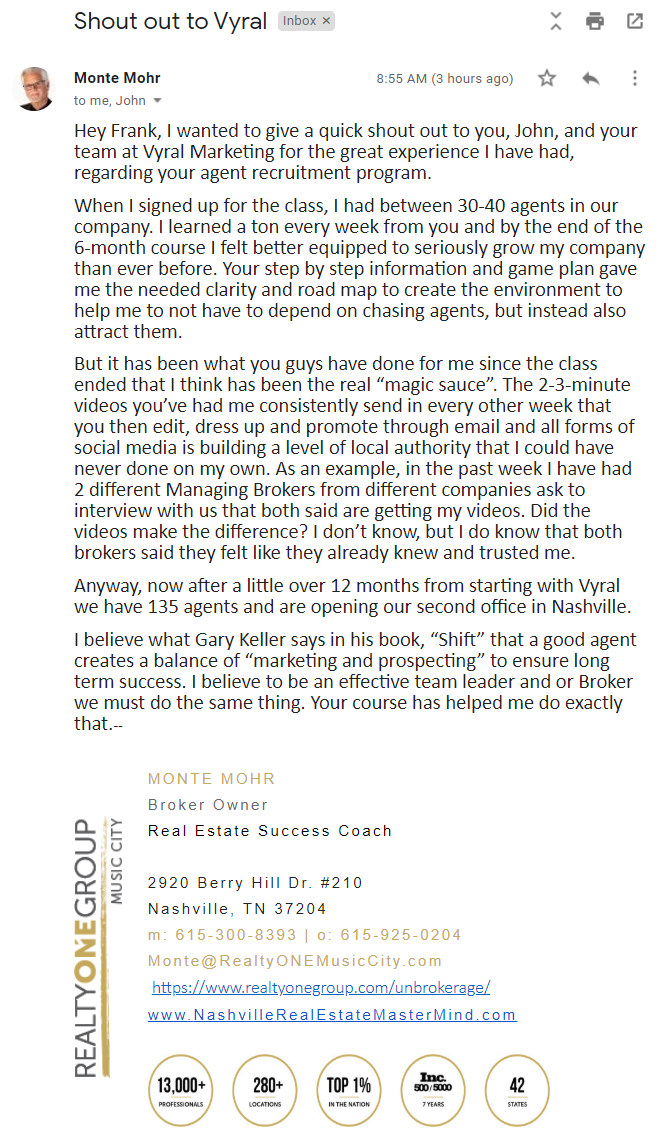 ---
---
We're here to help when you're ready
You'll learn how we can help you get more sales from your database with done-for-you video, email and social media marketing to your #1 business asset - your past client, sphere, and lead database.