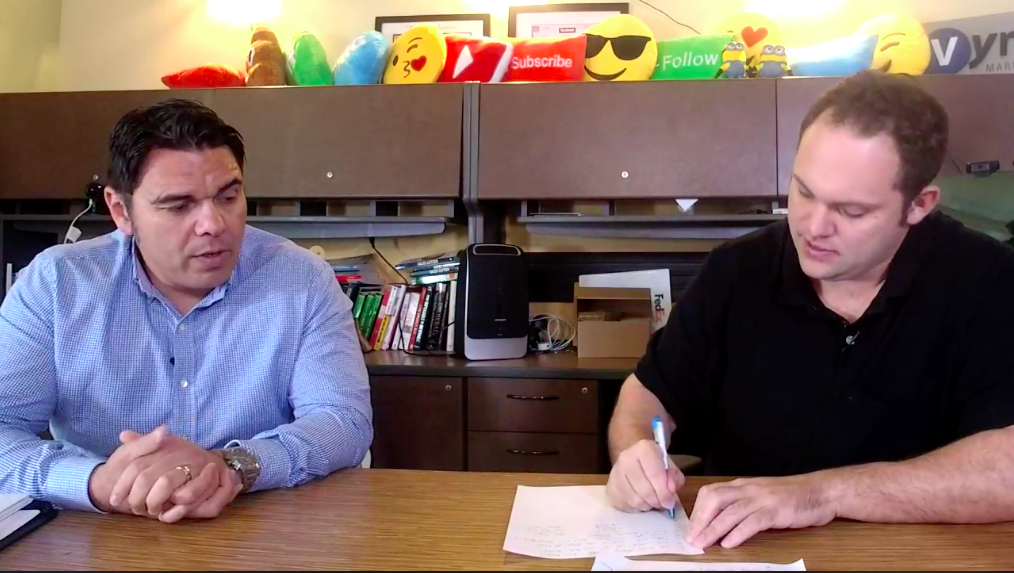 Clients and friends -
The biggest question I'm asked is "Why would I hire Vyral Marketing?"
It's because we guide you to get results. We also do all the implementation, too.
I'm excited to announce a new series that hasn't been done yet in the industry.
It's called "Client Journeys".
We broadcast our marketing meetings with clients on Facebook LIVE for you to watch.
These are real meetings with paying clients. You'll hear their struggles, problems, successes and more. It's all there – live, unedited, and raw. You get to see the entire creative process.
You'll see how we strategize, plan, and execute each week.
You can now follow along with a specific client each week and see how the process of getting the marketing done works from idea, strategy, and execution to results.
I'm personally working with two clients…
First is Ulises Vera in San Diego, CA - a beginner real estate client just starting their marketing journey after 10 years of cold door knocking to get business. I'm working with him to reconnect with his database, establish a farm, hold events, and start making videos for the first time.
Second is Jeff Quintin in Ocean City, NJ - an advanced real estate client who has sold nearly $1 billion in real estate over the past 20 years. He needs to provide top notch marketing support to his agents. I'm working with him to "dominate" social media with advanced strategies.
A big thank you to these guys, by the way, who agreed to broadcast our private weekly marketing meetings live on Facebook with me.
We go live every Friday morning on our Vyral Marketing Facebook page. I meet with Jeff every Friday at 8am PST and Ulises every Friday morning at 9:30am PST. We post the replays on our blog with a write up of what we discussed along with that week's action steps.
Why am I doing this?
You'll see what it's like to work more deeply with us. I want to show you our competitive advantage – the personal guidance you receive when you're a client.
(It's also great training material for our now 60+ employees at Vyral Marketing).
My goal here with everything I send you is it needs to be so good you're willing to pay money to receive it. These clients are paying for these weekly meetings, so it hits that standard. Bring your notes. We're advancing and getting work done every week.
Here are all the Client Journeys so far you can watch. I just had my first meeting with Jeff on Friday, and I'm on meeting #5 so far with Ulises.
You can join me and Jeff Quintin for meeting #2 this Friday at 8am PST. I meet with Ulises at 9:30am PST the same day.
Frank Klesitz, CEO
Vyral Marketing
If you're a current client and you want additional guidance like this, email me frank@getvyral.com. If you're thinking about working with us, request a free strategy call on our website and we'll discuss what results you can expect with our marketing plan.