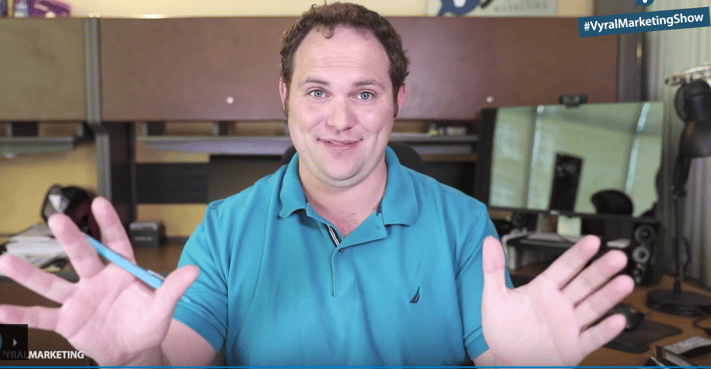 Clients and friends!

I have not written you in the past few weeks and I apologize.
We keep a clean email list here at Vyral Marketing (about 4,000 people) and we got hit with a spam trap.
That means there was an email in our list that reported our servers to a "blacklist" and if we sent a message to that specific email again, it would be bad news.
The problem is, our email service did not know what email address was the trap…
But, good news, that's all fixed! We sent an email out to about 2,000 of you who have not clicked an email link for six months and asked you to re-opt-in. Many of you did. (thank you!)
In the industry, that's called a "permission pass" campaign. That solved the spam trap problem since they are dormant email accounts run by computers that do not click links.
As we go forward to the coming months and years - the days of just hitting your questionably compiled list with unsolicited email (i.e. graymail) without consequence is coming to an end.
That's why it's more important than ever you follow the Vyral Marketing Plan of asking for emails (getting permission), sending out 2 helpful messages a month to your database, and following up with people who engage with your messages for feedback - and ultimately - appointments or referrals.
Download the video marketing plan we recommend if you have not already:
I recorded Episode 21 of the #VyralMarketingShow last week. It's live now.
(Episode #22 was shot yesterday and being edited now. It's about how to secure top real estate agents as referral partners if you're a mortgage professional by starting a local community real estate blog and inviting productive real estate agents on your podcast/show as your guest, which helps with their marketing and secures you an appointment to start a relationship. Stay tuned…)
Vyral Client Jeff Quintin - a top real estate agent for over 20 years in Ocean City, NJ - built up an email list we've been messaging with for years of over 100,000 people.
That was just too big and we needed to get with the times and clean it up.
So, in this episode, I go through exactly how we rounded up all his emails, de-duplicated them, ran them through cleaning using NeverBounce.com, and then suppressed anyone who did not open his next email message after 1 week, leaving him with a list of about 6,000 super-high quality contacts for his "real" database. All the details are in the episode.
Now, I plan on getting back to writing you every week going forward. If you don't want my CEO messages, no hard feelings just unsubscribe at the bottom of this email. You're getting this message because you're on our VIP list since you're a client, you've reached out to us in the past, or you requested information from us.
Do you have a question for me I can answer for you on an upcoming show? If I pick your question I'll send you a $25 gift card as a thank you. Just send me an email.
Have a great weekend,

Frank Klesitz, CEO
Vyral Marketing