For the week ending October 22, 2021
Featured Video of the Week
"Our Market is Shifting, so Don't Believe
These 4 Myths"
By Vyral Client Josh Lioce
Our video this week comes from Vyral client Josh Lioce from Milford, Massachusetts. In it, he speaks about what we've seen in the market thus far, what we can expect to see in the near future, and how home selling will be impacted by all of this. Based upon a recent article, he explains in detail why you shouldn't believe these four common myths, with compelling reasons as to why this is. His video is quite informative and it will definitely be very valuable to his database. Great job, Josh!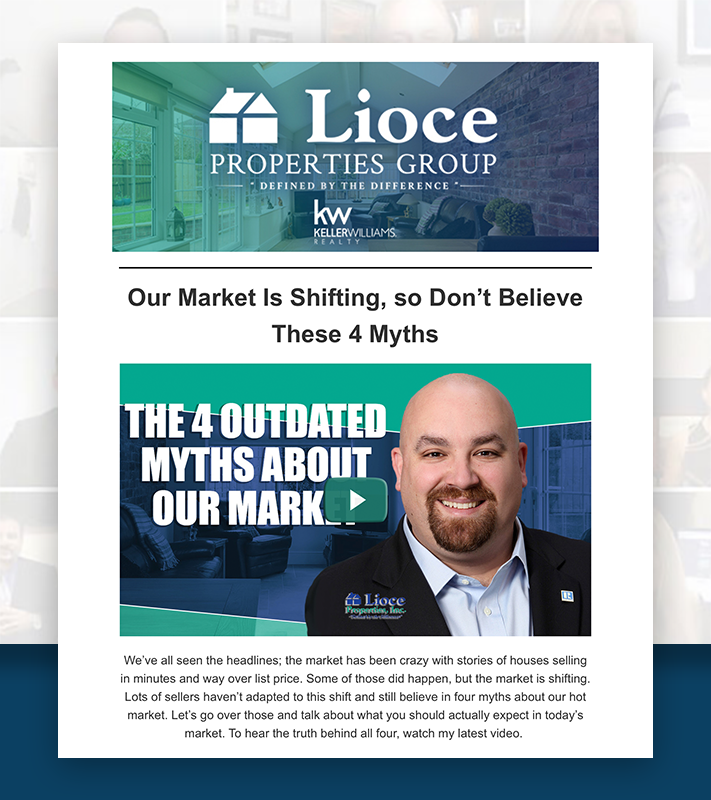 ---
Real Estate News Story
A story to share with local commentary/insight for your database
Smaller Is Better: Here Are America's Top 10 Emerging Real Estate Markets
"The next big real estate markets are far from the flashiest cities on the nation's pricey coasts. Instead, buyers and investors are discovering the potential of smaller, more affordable housing markets."

---
Best Video Topics
Top 5 topics that performed well this week
1. Why are prices skyrocketing in our city?
2. How can you get the best ROI when selling your home?
3. Can you still sell your home even when it has undesirable features?
4. How has COVID affected our market?
5. What extra homebuyer costs should you be budgeting for?
---
Client Success Story
Marnie DuBois' Consistent Email Marketing
Today, we're highlighting Vyral client Marnie DuBois from Auburn, Maine. Marnie has been very consistent with her email marketing, always making sure to send out all-text emails when she's unable to film videos. Her dedication has paid off, with solid open rates and great database engagement across the board. In fact, she states, "Vyral has been the best money we've ever spent on any vendor." Her clients have appreciated the valuable content that she's been sending out, and the ability to stay in better touch has definitely made an impact. Congrats, Marnie!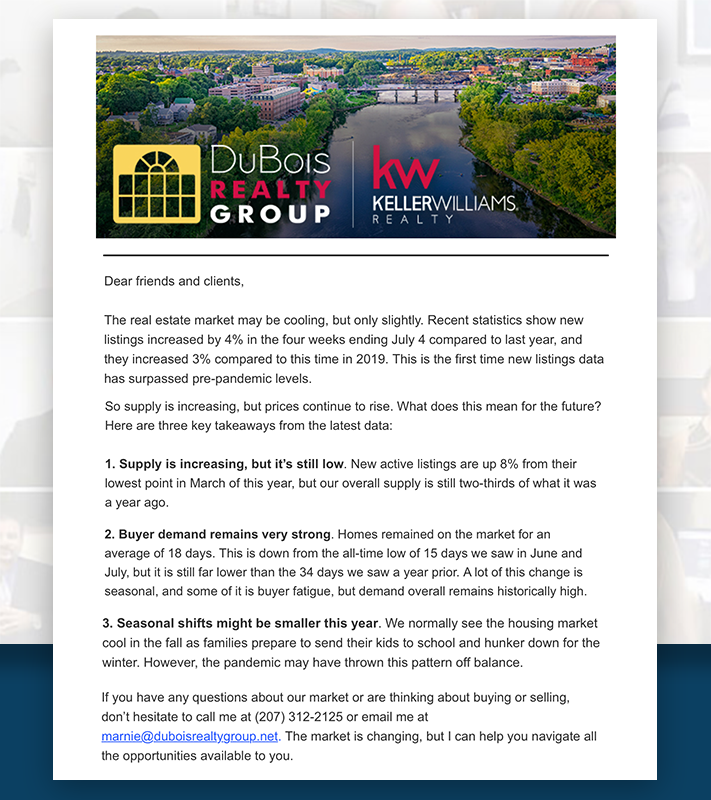 Module #3: Creating Better Videos
October 25: Picking the best topics people want
November 1: Writing an effective Q&A video script
November 8: Shooting video that looks and sounds great
November 15: Optimize your videos (SEO) to get found
---
Client Reviews & Stories
More nice things clients told us this week
TESTIMONIAL: "Frank Klesitz, CEO of Vyral, is nothing short of phenomenal. Great communication, always on time, and always AVAILABLE! Thank you for taking my business to the next level." - Edgar Chavez | | Momentum Brokers
---
Webinar Replay
The Medical Student Niche for Listing Leads

Mikki Ramey is the number one agent on Zillow in Charleston, South Carolina, and her business benefits greatly from organic search, which makes up 30% of her total transactions. She has built a ton of visibility and trust in her market because of those reviews, along with working a unique niche—nurturing relationships with medical personnel and her database. Today on the show, you'll learn how she does it.

1. Reviews - Mikki has generated 550 reviews on Zillow, and she also focuses on Google and Realtor.com reviews. She took advantage of client reviews as soon as Zillow allowed them, which is part of the reason why she has so many positive reviews. She shares how she uses verbal communication to prime her clients throughout the customer journey, from the listing presentation to the end of the transaction. To incentivize her clients to post their reviews on all three platforms, she gives them a $50 Amazon voucher. She asks for the reviews right after the money is wired into their account, using that emotional high point to piggyback on the ask for a review, which has been very effective.

2. Medical professionals/residency coordinators - As a medical spouse, Mikki taps into a niche that she has a lot of insight into, residents who have just moved to Charleston. She has built relationships with resident program coordinators, and they essentially function as her affiliates. She gets the coordinators to promote her to residents, informing them that she's available as a Realtor, and then she maintains this relationship for the doctor's entire employment journey. To build her list of medical professionals in Charleston, Mikki does a ton of research to get a list of all the residents in the area, and then she looks up tax records to see who is a homeowner. She operates this part of her lead generation as a separate referral network, and even created a site, drmoves.com to help medical personnel across the country find homes. The riches are in the niches, and by attacking on a narrow front, Mikki has created a stable lead source that keeps on giving.

3. Sphere of Influence - Mikki's third lead source is her sphere. Her policy is to "feed the database like it's a hungry teenager," and the most effective nurture strategy is using Homebot through YLOPO to send a monthly home valuation. She's also making content to mitigate objections before they even come up. The number one concern sellers have is where to move after the house is sold. Mikki's strategy: buy a cheaper house as an investment property, live in it until they buy their dream house, and then rent it out.
Download Mikki's Client Reviewing Process for FREE by filling out this form.
---
Upcoming Events
Keeping it Real Podcast: October 28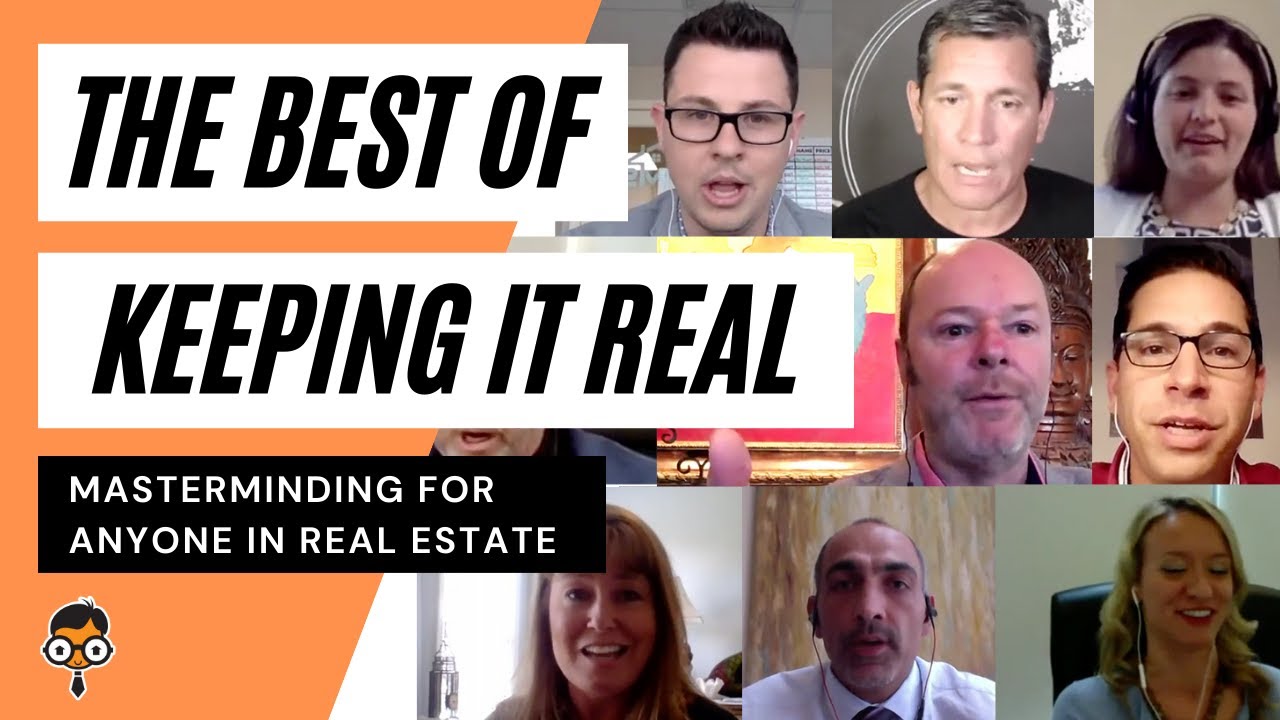 Watch live every other Thursday at 1pm CST on Real Geek's Youtube channel.
---

Get More Sales From Your Database
We'll help you get more sales from your past clients, sphere, and warm lead database with done-for-you video, email, and social media marketing. It takes minimal time. You also get our 90-day 100% money-back guarantee so there's zero risk of losing money if you're not happy for any reason.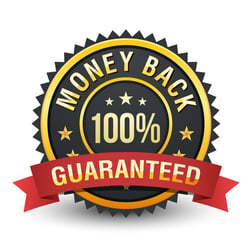 Let's talk about the results you can reasonably expect with our Official Video Marketing Plan we'll implement for you.
---
If you were forwarded this email and would like to get our updates directly, with a copy of our Official Video Marketing Plan, click here to join our mailing list.
Have a question? Simply reply to this email.
Thank you!
The Vyral Marketing Team