For the week ending September 10, 2021
Featured Video of the Week
"3 Points to Discuss With Clients About a Housing Crash"
By Vyral Client Lindsay Dreyer
Our featured video this week comes from Vyral client Lindsay Dreyer in Washington, DC. Her video comes from her recruiting page, and it's an important one: How to address clients' concerns about a potential housing crash. In the video, she explains what a housing bubble is and why she doesn't believe that we will experience a repeat of 2008's housing crash. She has great b-roll and headings in her video that illustrate the most important points, as well as a nice background and great lighting. Wonderful job, Lindsay!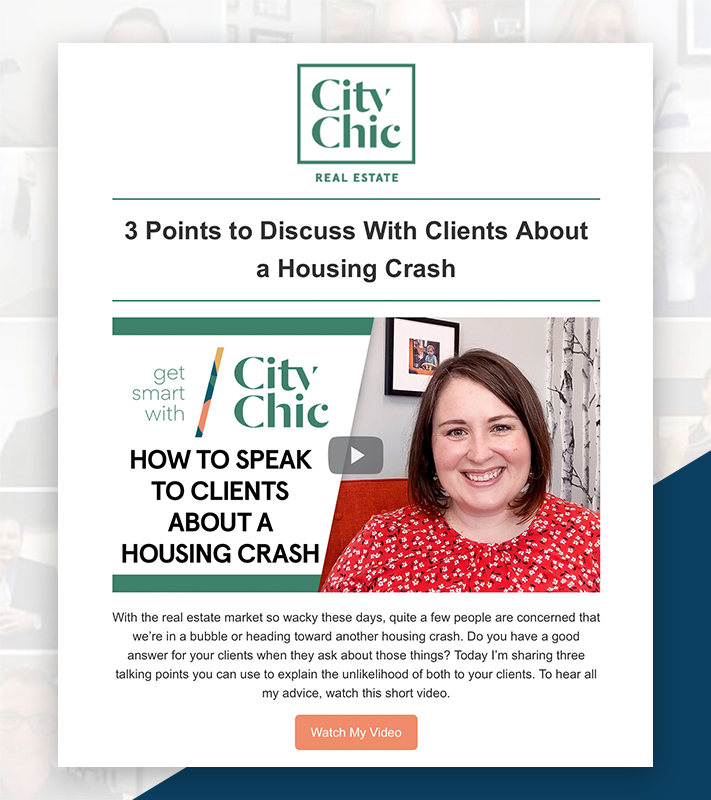 ---
Real Estate News Story
A story to share with local commentary/insight for your database
White House details plans to improve housing affordability
"White House officials are outlining plans to build and restore more than 2 million homes, a response to the volcanic rise in housing prices over the past year."

---
Best Video Topics
Top 3 topics that performed well this week
1. How can you save money on your property taxes?
2. Can you back out of a listing agreement?
3. How have rising material costs affected the market?
---
Client Success Story
Barbara Legg's Impactful First Video
This week, we're highlighting new Vyral client Barbara Legg from San Diego, California. A few weeks back, she sent out her first video which discussed the housing market in her city and the shift that has been happening in the market. Her video was a huge hit with her database. It had a 43% open rate and a 13% click rate! This was a wonderful result to see for a first video. We're excited to see what results your next videos get, Barbara!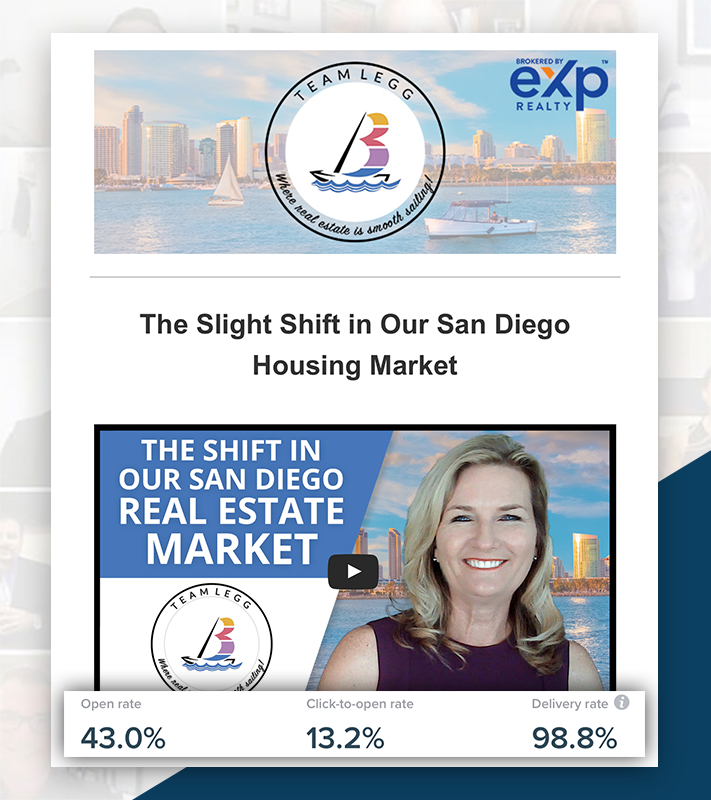 Module #1: Database Reconnect
August 9: Export/clean your database (CRM, Gmail, etc.)
August 16: Updating missing phone numbers and emails
August 23: Send out a reconnect message that's warm

September 13

: Including team members in your marketing
---
Client Reviews & Stories
More nice things clients told us this week
TESTIMONIAL: "Frank and his team with Vyral Marketing has brought incredible results and performance to our real estate business. His ideas, knowledge, experience, and overall willingness to share and help have revitalized our business and ultimately provided fundamental building blocks to our business that we previously didn't realize we needed but now couldn't dream of living without."

"Their systems and resources have thrown over $100,000 of PROFIT to our bottom line every year since starting and growing. Every dollar we've invested into using Frank and Vyral Marketing has returned itself tenfold. If you have any desire to grow and increase your business, do the right thing for YOURSELF and YOUR CLIENTS and commit to using Frank and Vyral Marketing." - Chase Ames | The Ames Team

---
Webinar Replay
The Listing Lead Show: Generating Leads From Sports Marketing and Long-Term Branding with Gary Ashton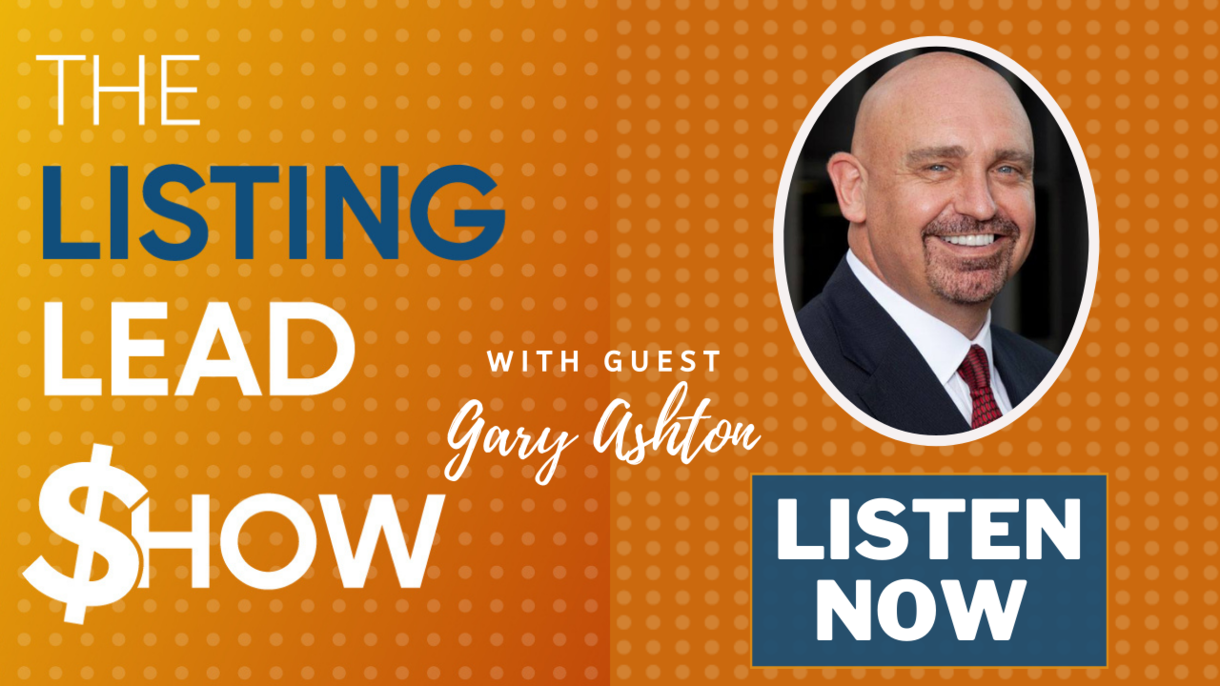 Gary Ashton has built the number one RE/MAX team in the world, with $1 billion in GCI. His team is also the official real estate team for the Tennessee Titans NFL team and the Nashville Predators NHL team. Gary made a huge commitment to and investment in a massive staffing, branding, and advertising operation.
The key to Gary's system is sports marketing, putting money toward long-term branding, hiring licensed local ISAs, and clever radio ads with catchphrases that stick in people's minds. His team is layering in multiple pieces to create undeniable recognition and credibility in the Nashville market.
You'll learn how Gary generates thousands of leads with a unique marketing strategy including his "get your dream address without the stress" slogan. His main lead-generation tactics are:
The long-term branding play - Gary has invested in billboard and radio advertising, but that isn't something to dive into too early. Don't do billboards and expect the phone to start ringing immediately. Billboards don't work by themselves, they amplify what you're already doing and create a solid foundation over time.
Memorable radio ads - Gary's ads stay top of mind with the use of catchphrases like "don't sell without the intel" and "get your dream address without the stress." By sticking to these catchphrases over the years, his team is instantly recognizable to the consumer.
The emotional strength to spend on marketing - To emotionally withstand the pain of paying thousands of dollars in advertising and staffing and waiting to get the return, do it in small, bite-sized chunks. Make it a gradual increase in spending, and stack up the small stones.
Branding and marketing at the highest level - Gary leverages his status as the official real estate team for the Tennessee Titans NFL team and the Nashville Predators NHL team for brand association, credibility, and visibility. Instead of the standard sponsor deal where he gets a suite, he chose to get promotional tickets and to have a tailgate at the stadium. Instead of marketing to 12 people in a stadium suite, he can market to 30,000 people walking past the tailgate. He has further entrenched his association with the team by having TV ads running during games and radio ads presented by the voice of the Tennessee Titans.
Licensed ISAs - Gary's team uses in-house licensed ISAs who are based in Nashville. They know the market and can talk to buyers and sellers with authority. That way, the client never feels like they are being handed over to another assistant.
Note how Gary uses a concerted but consistent strategy to help the customer create their own journey.
Join us for this interview and learn how to layer in all the pieces of branding and marketing that will pay off in lead generation!
Fill out this form to get the downloads of Gary's most impactful billboards!
---
Upcoming Events
Keeping it Real Podcast: September 16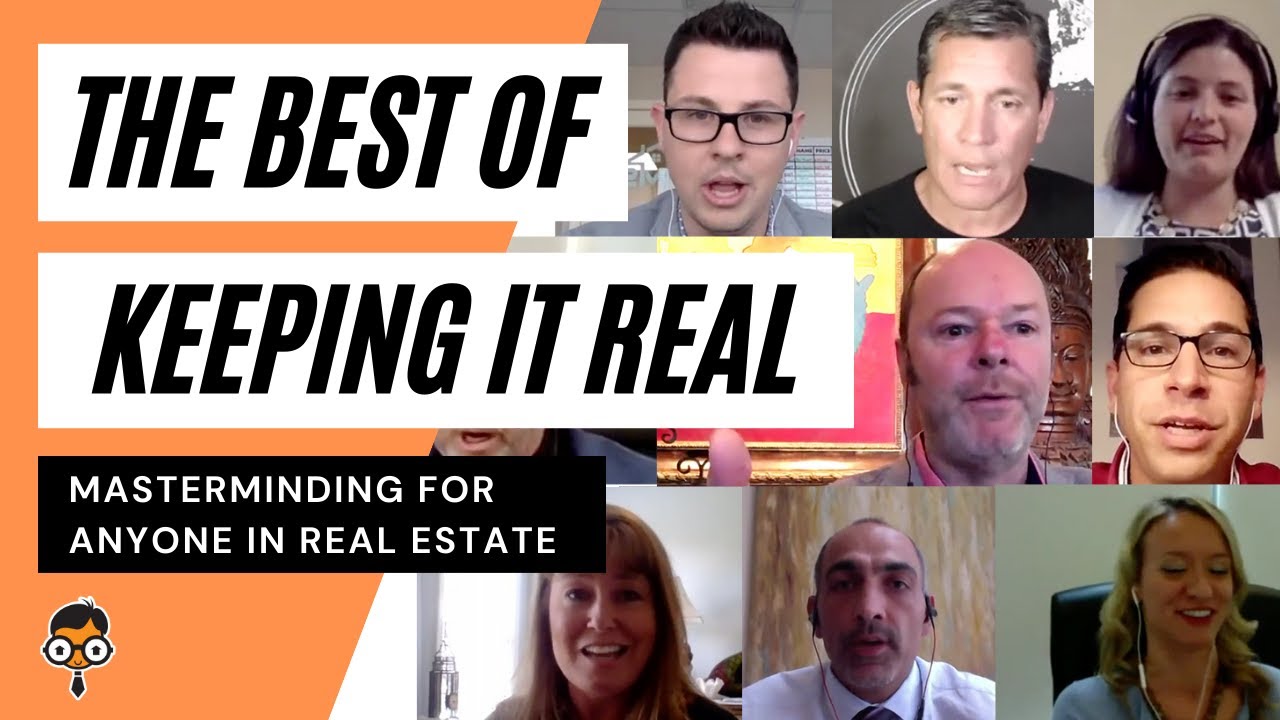 Watch live every other Thursday at 1pm CST on Real Geek's Youtube channel.
---

Get More Sales From Your Database
We'll help you get more sales from your past clients, sphere, and warm lead database with done-for-you video, email, and social media marketing. It takes minimal time. You also get our 90-day 100% money-back guarantee so there's zero risk of losing money if you're not happy for any reason.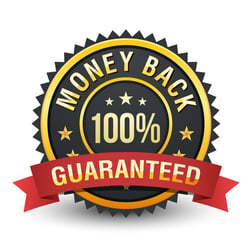 Let's talk about the results you can reasonably expect with our Official Video Marketing Plan we'll implement for you.
---
If you were forwarded this email and would like to get our updates directly, with a copy of our Official Video Marketing Plan, click here to join our mailing list.
Have a question? Simply reply to this email.
Thank you!
The Vyral Marketing Team