For the week ending September 11, 2020

Featured Video of the Week
"What Are the Top 3 Tips for Staging Your Home?"
by Vyral Client Mikki Ramey
This is a vendor participation video done right. Mikki Ramey in Charleston, South Carolina invited Tess Bartmann into her video to talk about home staging. Tess is the co-owner of Holy City Home Staging. Bringing an expert in as a guest to one of your videos can boost your credibility as an agent and help you zero-cost your marketing. In this video, Mikki introduces her guest and then lets her take over and give three quick tips about home staging. This is so helpful for your clients, Mikki!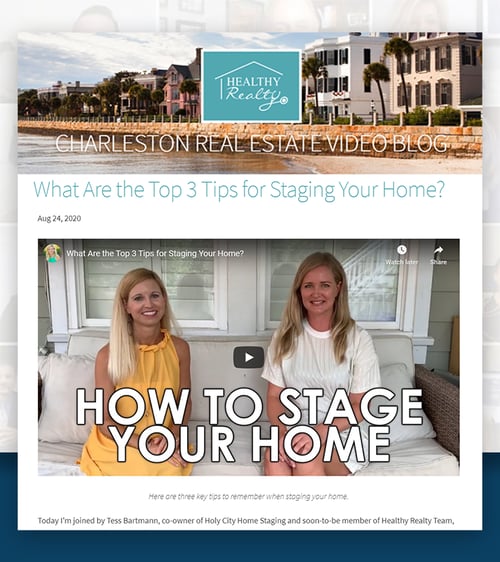 ---
Marketing Classroom Snippet
with Frank Klesitz, CEO Vyral Marketing
Clients, log in and watch the full replay
Here is the Classroom Syllabus for this month:
Module #3 - Creating Better Videos
September 7: Picking the best topics people want
September 14: Writing an effective Q&A video script
September 21: Shooting video that looks & sounds great
September 28: Optimize your videos (SEO) to get found
---
Top 3 Video Topics for Response
What worked fo

r real estate clients this week
1. What is "screen appeal" and why is it so important in today's market?
2. Is it a good time to buy an investment property with rates being so low?
3. What are buyers looking for most in a property amid COVID-19?
---
Client Success Story
Les Walden Generates 125 Prospects with a Reconnect Message
When Les Walden from Seneca, South Carolina joined Vyral about a month ago, he had lists from various places. As part of our launch process, we worked with him to round up all of his contacts from multiple CRMs he was using, his Google & Outlook email contacts, and his iPhone address book. After we consolidated his contacts, Les added over 1,000 people to his list and sent out a reconnect message. That email generated 125 interested prospects who engaged with his message for Les to follow up with!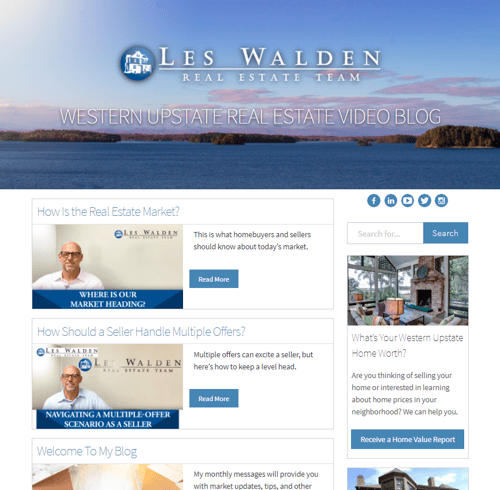 ---
Guest Webinar Replays
iRep Summer of Success: Reconnecting With Your Database
Jeff Glover: The True Cost of Real Estate Buyer and Seller Leads
---
The Recruiting Project Add-On
If you want to recruit real estate agents to join your business, how should you do it? In this lesson of our recruiting course I explain how to recruit through an outbound email campaign. There are three types of messages you can send: top, middle, and bottom-of-the-funnel emails. The funnel is a relationship; let them get to know you first, then move them down the funnel.
Read the full syllabus for the Recruiting Course
---
Client Reviews & Stories
More nice things clients told us this week
TESTIMONIAL:
"
Although I'm not a client of Vyral Marketing, I couldn't be more impressed with Frank and his company! Feeling the need to basically overhaul my marketing, I contacted Frank via email. The following weekend I received a personal call from Frank who graciously took over an hour of his valuable Sunday evening to do a very deep-dive into all aspects of my marketing and advertising. Without a doubt, this was one of the most helpful strategy sessions I've ever experienced with a marketing firm. I must say that some of Frank's advice goes 180-degrees against what other real estate coaches preach; however, after our call and really taking time to think about what Frank recommended, it was as if a light-bulb went off, realizing how much sense Frank's advice made! I'm now in the process of following through with Frank's advice and, maybe at some point in the near future, be able to explore some of Vyral's paid services (which ironically, Frank made no mention of during our call...the pure definition of what I'd consider 'low-pressure'). Thanks again, Frank!" - Mike Sanders | Mike Sanders Team
STORY: Kevin Kauffman in Scottsdale, Arizona has been implementing Module 2 of our weekly Classroom. He mailed a letter to a "likely-to-sell" list in his market of homes valued between $750,000 to $1.5 million. He received 15 replies like this!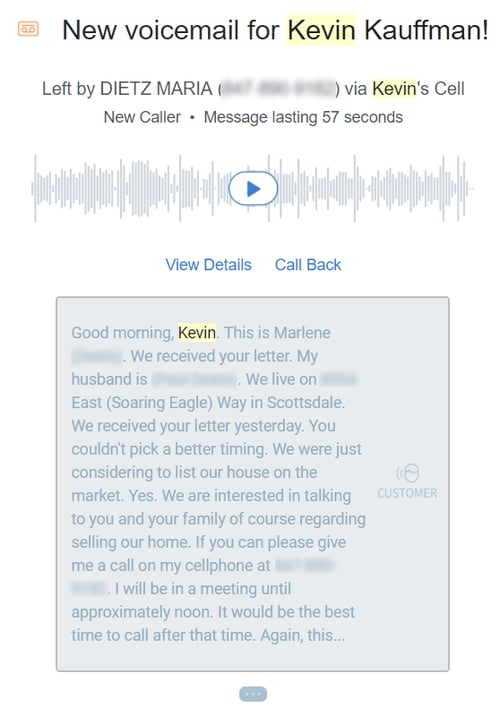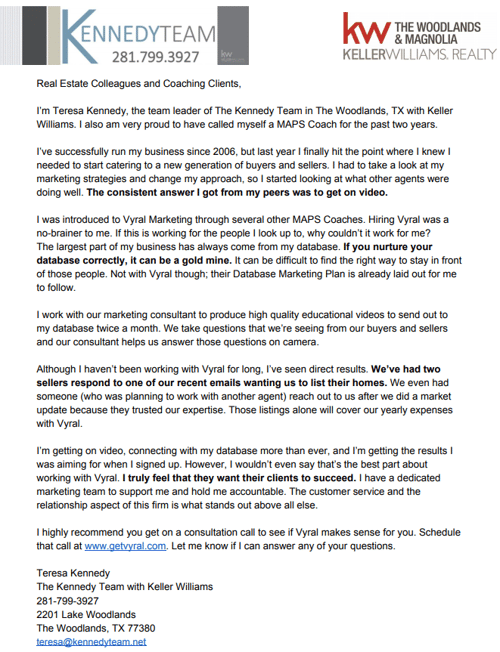 ---


Get More Sales From Your Database
We'll help you get more sales from your past client, sphere, and warm lead database with done-for-you video, email, and social media marketing. It takes minimal time. You also get our 90-day 100% money-back guarantee so there's zero risk of losing money if you're not happy for any reason.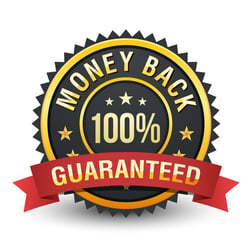 Let's talk about the results you can reasonably expect with our Official Video Marketing Plan we'll implement for you.
---
If you were forwarded this email and would like to get our updates directly, with a copy of our Official Video Marketing Plan, click here to join our mailing list.
Have a question? Simply reply to this email.
Thank you!
The Vyral Marketing Team