For the week ending September 11, 2020
Featured Video of the Week
"What Are the Perks of 3D Virtual Tours?"
by Vyral Clients Team Lally
Team Lally in Hawaii always brings the energy in their videos. The way these two play off of each other adds a unique twist to this short, relevant message. Instead of simply answering questions, Adrienne actually has someone there to ask her and makes this a natural Q&A-style video. The team's personality shines through in this video. We love your team!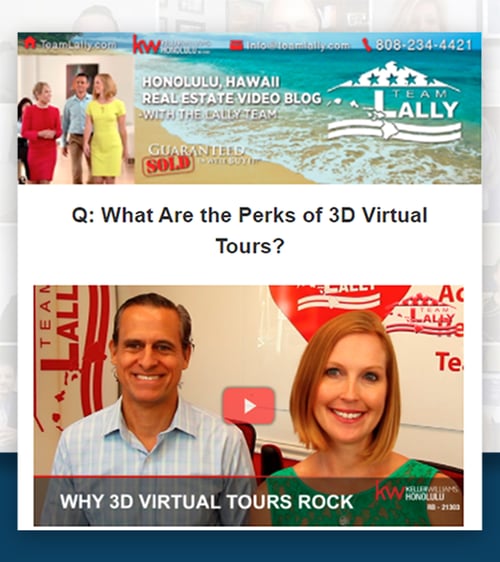 ---
Marketing Classroom Snippet
Sending Cold, Outbound Email to Homeowners
with Frank Klesitz, CEO Vyral Marketing
Clients, log in and watch the full replay
Here is the Classroom Syllabus for this month:

Module #3 - Creating Better Videos
September 14: Picking the best topics people want
September 21: Writing an effective Q&A video script
September 28: Shooting video that looks and sounds great
On-Demand: Optimize your videos (SEO) to get found
---
Top 3 Video Topics for Response
What worked fo

r real estate clients this week
1. Is inventory rebounding in our market?
2. What's the difference between an appraisal and an inspection?
3. What are the reasons a transaction can fall through?
---
Client Success Story
Caleb Davis Gets A Listing Without Prospecting
Caleb Davis in San Francisco, California, has been a Vyral client for about a year. He briefly stepped back from heavy prospecting to focus on another project, but he left his Vyral videos running. Without actively following up with any leads or making any phone calls, someone on his video mailing list decided to contact him directly after watching one of his videos. Caleb is closing on that house this week!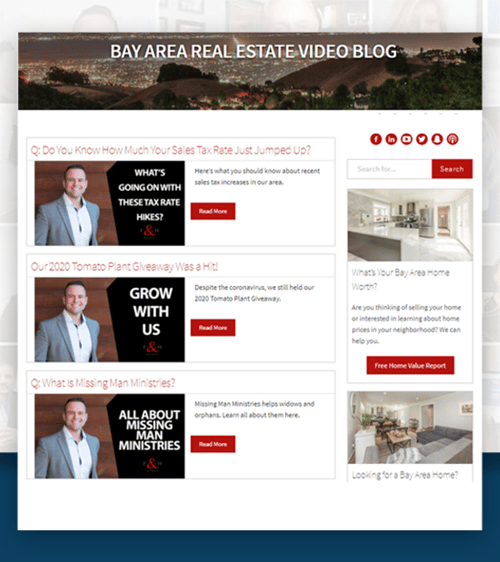 ---
Guest Webinar Replays
How Mark Callender Increased His GCI By $100,000
Mark Callender joined Vyral back in 2016 and his business saw its most successful two years ever. Mark went from a GCI of $186,700 to $309,500 in 2017. Mark decided to quit Vyral because he couldn't directly track his business. The next year, his GCI went back down to the levels it was at in 2016. The only thing he had taken out of the equation was Vyral. Now, he's back as a client and doubling down on staying in front of his database.
---
The Recruiting Project Add-On
Setting Up a Freem Business Plan Meeting
with Frank Klesitz, CEO Vyral Marketing
Read the full syllabus for the Recruiting Course
---
Client Reviews & Stories
More nice things clients told us this week
Testimonial: "The Vyral system is first class and you guys really have a great business and everybody that's been helping me so far is really confident and good at what they do." - Chance Casey | Chance Casey Group

Testimonial: "Frank and his team do an excellent job helping real estate agents take their business to the next level. I had friends who used his database service for years and I knew they did great work. I started using Vyral for the recruiting class and building my block for teaching. Using their techniques and tips we have saved a lot of time and money in our recruiting efforts for our real estate team. We had 22 people at our last career mixer and before that our largest attendance was 10 people. After seeing that success, we expanded the services we hired them for and they handle our database marketing as well. If you want to grow your business then don't think twice about hiring the Vyral team to help you get there faster. The investment is very reasonable and you'll get paid in dividends." - Tiffany Fykes | Fykes Realty Group
---


Get More Sales From Your Database
We'll help you get more sales from your past client, sphere, and warm lead database with done-for-you video, email, and social media marketing. It takes minimal time. You also get our 90-day 100% money-back guarantee so there's zero risk of losing money if you're not happy for any reason.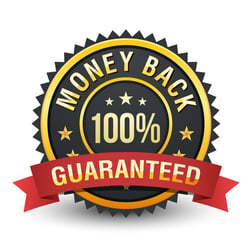 Let's talk about the results you can reasonably expect with our Official Video Marketing Plan we'll implement for you.
---
If you were forwarded this email and would like to get our updates directly, with a copy of our Official Video Marketing Plan, click here to join our mailing list.
Have a question? Simply reply to this email.
Thank you!
The Vyral Marketing Team