For the week ending September 25, 2020
Featured Video of the Week
"What 4 Myths About Our Market Still Persist?"
By Vyral Client Justin Vierra

Justin Vierra in Sacramento, California, delivers a truly educational video about today's real estate market. Justin demonstrates his expertise in the field by laying out four common misconceptions about real estate and makes it timely by referencing what is going on NOW. Graphics are used to highlight his main points and his overall organization makes the information easy to follow and process. Keep it up, Justin!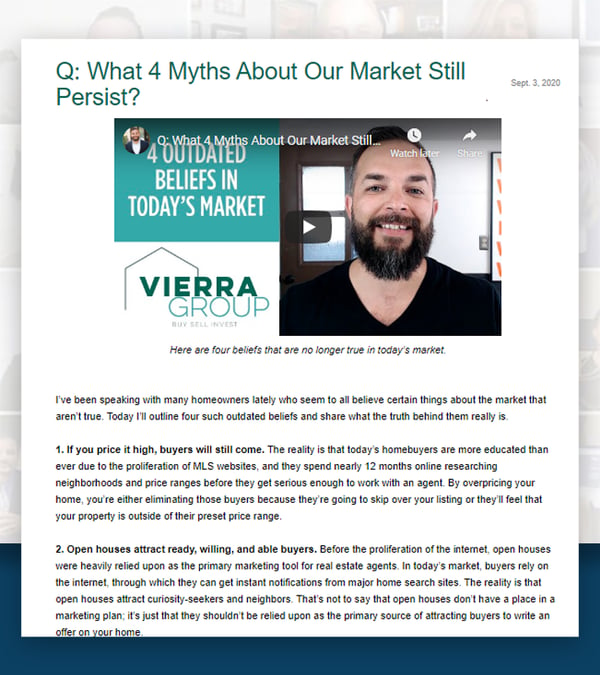 ---
Marketing Classroom Snippet
How to Choose the Best Video Topics
with Frank Klesitz, CEO Vyral Marketing

The best video topics are answers to questions that clients are asking now. Talking to clients and prospects every day is how you learn the "message of the moment." The news, issues, and time of year all play a factor.
Clients, log in and watch the full replay

Here is the Classroom Syllabus for this month:
Module #3 - Creating Better Videos
September 14: Picking the best topics people want
September 21: Writing an effective Q&A video script
September 28: Shooting video that looks and sounds great
On-Demand: Optimize your videos (SEO) to get found
---
Top 3 Video Topics for Response
What worked for real estate clients this week
1. When, if ever, will real estate prices drop?
2. Should I sell or rent out my property?
3. How long should I expect my house to be on the market before getting an offer?
---
Client Success Story
Adam Parsons Gets a Direct Referral
Client Adam Parsons out of Toronto, Ontario, went on a listing appointment this week from a referral. A past client from Adam's database received the video and even though the past client moved out of the area, he passed along Adam's message to his sister. That sister contacted Adam right away because she had been thinking of selling and his video pushed her to do so right now! Referrals are still the backbone of real estate leads. Thanks for being a client, Adam.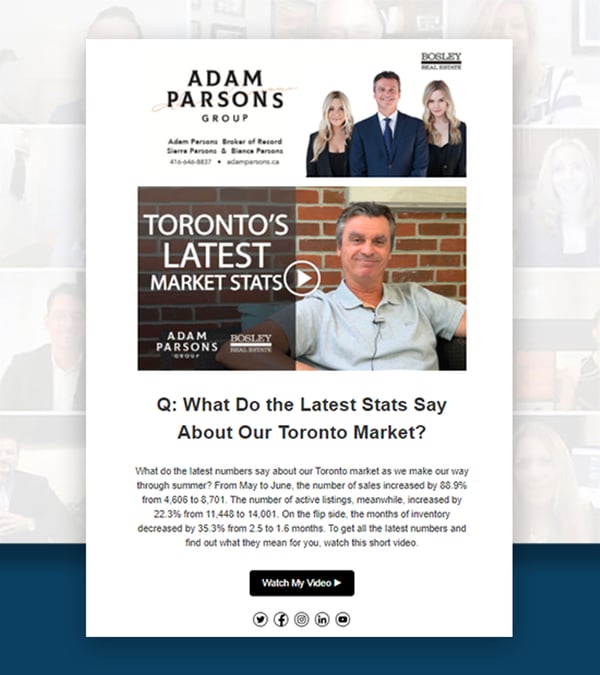 ---
The Recruiting Project Add-On
Hosting a Business Planning Workshop
I want you to host a business workshop or clinic where you teach an entry-level agent how to write a business plan. More importantly, I want you to create a standardized, scripted (almost down to the minute) sort of workbook for this event. You should design it to last about three hours. Somewhere between every month and every three months (depending upon demand and the market you're in), you'll hold this same business planning workshop.
Read the full syllabus for the Recruiting Course

Watch Frank's Summary Video
---
Client Reviews & Stories
More nice things clients told us this week

TESTIMONIAL: "I really like all the different ideas that come up. So you know it's nice to just be working with the company that it's always kind of thinking of new and innovative ways to grow the business and be in front of the database." - Joshua Holt | Holt Real Estate Team


TESTIMONIAL: "Awesome company that provides massive value for Realtors with all things Video Marketing. I'm early in my business and not quite ready for their extended service, however, John gave me a world-class consultation for what I can do with video now in my business and how to get more "permission-based" contacts to my database." - Shayne McQuivey | RE/MAX Equity


STORY: Vyral client Jack Lehr of Pennsylvania has seen a boost in his video email interactions since COVID-19 hit. His team has been aggressively following up with the interaction reports that Vyral sends after his videos go out. Their follow up has resulted in at least one transaction for every "open and click report" they receive
---


Get More Sales From Your Database
We'll help you get more sales from your past client, sphere, and warm lead database with done-for-you video, email, and social media marketing. It takes minimal time. You also get our 90-day 100% money-back guarantee so there's zero risk of losing money if you're not happy for any reason.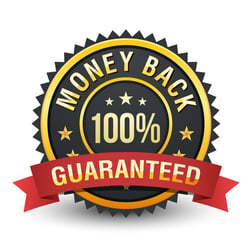 Let's talk about the results you can reasonably expect with our Official Video Marketing Plan we'll implement for you.
---
If you were forwarded this email and would like to get our updates directly, with a copy of our Official Video Marketing Plan, click here to join our mailing list.
Have a question? Simply reply to this email.
Thank you!
The Vyral Marketing Team