You'll learn the email and voicemail script we use when calling the people who watch your videos on your behalf to call you back.

Have a marketing question? Email frank@getvyral.com. I will answer it. If we pick your question to publish you'll get a free marketing book shipped right to you.
Q: Travis, a real estate agent in Los Angeles, asks "What is the single most important thing that we should be asking in order to get them to call us back?"
A: Thanks Travis for your question! To give context to this question first, I'll assume you're calling the people who watch your videos, or you have someone on your behalf calling them.
Let's say you sent out a video on "What do I need to know before selling my home this summer?"
You see 35 people clicked through to watch it. Those are high probability conversations.You want to call with something of value to start off the conversation first, such as to invite them to an event or just to ask what other questions you can answer.
Once that starts the conversation, you would ask if they want to buy or sell a home - or if they know anyone who wants to.
But what if they don't answer? That's your question...and here's the answer...
Here's the voicemail script we use right now to get callbacks:
"
Hi, this Brayden at xxx-xxx-xxx with (company) here in (city). (Client) whom I believe you know asked me to call you. I'm his/her assistant. I'm going to email you right now at (email address) with his/her message. Call me back at xxx-xxx-xxxx."
Here's the email template we use for the follow-up email for responses:
FROM: Brayden Schwab
SUBJECT: Just left you a voicemail
Hey, there is this Brayden. I'm the assistant to (client name) at (company) here in (city). I just called you and left a voicemail about this quick email I would send you. I see you subscribe to our local real estate video blog, thank you.
(Name) wanted me to ask you/let you know.....
You can reply back to me. I'll forward it to (name).
Also, we have a lot of people who want to buy a home here in (area) but there are not enough homes for sale. Any interest in selling your home, or someone you know looking to sell?
I'll let (name) know.
Brayden
(full client branded signature here)
In fact, here's a response to an email we sent after a voicemail where a calling assistant following up on who watched a recent client's video got a pretty good lead: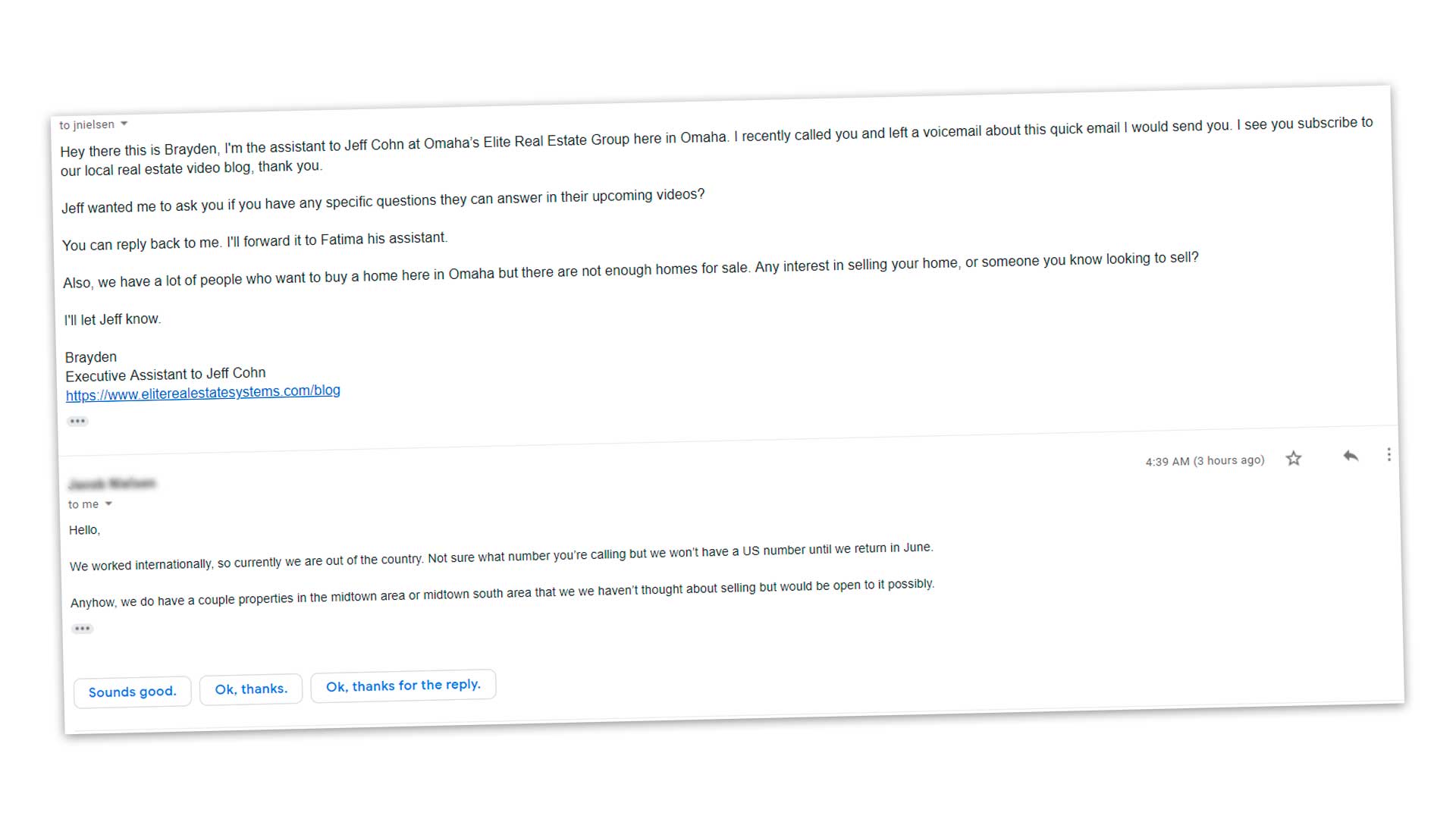 That works for us - do the same and report back your results! If you have any questions about getting more business from your database, request a strategy call below:
You can also download our Official Video Marketing Plan we recommend to get more business from your database. It's what we implement for all our clients: