You'll learn how to get homeowner data into Facebook and put an ad in front of them that gets people to message you sell their home.
Real estate clients and friends -
Sick of being scammed with Facebook ad gurus and "funnels?" I am too, trust me.
I wanted to write you this week with the #1 best Facebook ad you can run for "bottom of the funnel" seller lead generation. Period. End-of-story. (I know that's a mighty claim. I'll defend it.)
My argument is based on fundamental principles, that when applied, will get people to message you on Facebook to sell their home.
We don't do complex "Facebook advertising" campaigns for you at Vyral Marketing since I think a lot of it is a racket and not helpful for a real estate agent.
Rather, we boost your educational Q&A nurture videos to your database only.
That's a good use of anyone's limited ad capital - putting your videos in front of your warmest audiences. From there, you can generate buyer leads from cold audiences with all the great CRM's out there.
However, I want to share high-level Facebook advertising insight with you since I think you'll find value in it. This is how you generate legitimate seller leads everyone in real estate wants.
We are also working with our clients this month on how to build their database, so the Facebook message fits.
Facebook is one of the ways to build your seller lead list with marketing, in addition to hiring a telemarketing assistant or sending out direct mail to a list of homeowners who are likely to sell their home.
Let's get right into it this week. Let's keep this super simple.
There are 3 things you need for a great Facebook ad to generate listings.
1. The right audience
Facebook got fined a few billion dollars for allowing housing discrimination to happen on their platform. When you run any housing-oriented ads now, you can't target homeowners directly on Facebook.
They in fact removed all the juicy 3rd party behavior and demographic data coming in from Acxiom and Epsilon, too - two giant American data companies who have thousands of data points on every American.
Well, I have good news for you. You can call these companies up directly now and back-door their data into Facebook. The big daddy of them all is arguably Oracle, and you can call their Data Hotline and ask them for anything you want.
This is what's for sale on you. (And all this, too, through Experian).
For example, if you want "all single family homeowners who have lived in their homes for 10 years between $400-600k in San Diego county who are likely to sell", guess what - they have it.
They have everything. It's all legal, too. You sign it all away for your credit card points, Facebook account, apps on your phone, store loyalty card, free GPS, free websites, etc.
(If you're running political campaigns, here's where you get your premium voter data for influencing elections. I can't wait to test what they have).
That's where the real players in Facebook ads (or any digital ads for that matter) are getting their data. Oracle charges a royalty on your ad spend. I believe Acxiom has a monthly spend minimum, too. Whatever you order from them is pushed into your Facebook account as a custom audience. That's it! How easy is that?
Call up Oracle and tell them you want to reach homeowners in your city on Facebook. Do it ethically and legally.
They will push that audience into your FB ad account and you'll now have an audience of homeowners to run your ads to. That's where you start.
**UPDATE** Here are more data companies to check out from our friends at Choozle.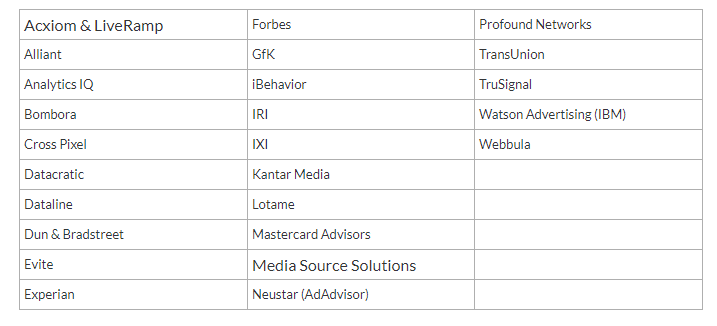 2. The right message
Next, is the right message. We don't need to over complicate this.
The ad should be super simple. It should say "Need to sell your (city) home? I'll get it sold for you." with the description "Get an offer quickly on your home and move on with your life."
You'll then need a video that clearly states the problem you solve, how you solve it, how you do it better than anyone else, and with a clear call to action. You want people to get to know you.
This is called crafting a primary offer. Most seller lead advertising is with secondary, upstream offers like "find out what your home is worth" messages that don't create motivated leads now.
Here's the loose script with 23 scenes you'll need to personalize for your business.
I included a suggested B-Roll shot list for most scenes. Nice B-roll will, ideally, humorously demonstrate what you're communicating in the scene. It also holds the viewers attention.
Here you go...
Do you need to sell your home here in (city)?

(shot of putting a sold sign in your ground)

We'd like to sell it.

(holding a check to the camera)

My name is (name) with my team members (names).

(shot of you and your team)

We'll get you several

offers on your home.

(stacks of offers piling up on table)

Call or text me.

(shot of placing a phone call or typing a text)

We'll price it to sell at the highest price

We'll clean up and stage your home

We'll take awesome photos that stand out

We'll market it everywhere online

We'll send it to our house buyer list

We'll answer all the calls

We'll handle all the showings and paperwork

We'll get you the highest possible price

And most importantly you can relax

since we'll do all the work for you.

(shot of homeowner in a recliner relaxing)

We can front you the cost for any repairs and shop around to get the best offer.

(shot of buying things at Home Depot and shots of any iBuyer advertising)

(city) is my home, too.

(shot of you smiling in front of an iconic place in town)

I went to (high school) and (college)

(shots of you in front of your schools)

We've helped (#) homeowners in (city).

(shots of you talking with people and working with people)

You'll get an offer fast and we know how to close quickly.

(shots of the home marketed online)

So call or text me on my mobile phone 24/7 anytime.

(hold phone up to the camera and smile)

Tell me about your home and situation.
I will listen. It's confidential. And I'll work with you.
I look forward to our conversation.
That's a direct, clear and to the point primary offer message. If a homeowner who is thinking of selling their home on Facebook watches your video, they will likely contact you.
Your video should be really personal with medium production value. It should not look like a TV commercial, but rather a very personal video that's designed to connect with the viewer.
It must look and sound good while honoring the fundamental rules of using a video camera.
Here's a primary offer video adapted for a real estate investor's business (who happens to be my wife). It was shot on a DSLR camera with a top notch wireless microphone.
If you really want to make sure the ad connects with people, stitch in a bunch of bloopers at the end of the video, too.
There you go. Now you have an on-point primary offer message with a problem-solving, personal video commercial shown to an audience in a needy niche.
Getting excited yet?
3. The right media
Obviously we're going to put the message on Facebook. I want you, however, to optimize it for messages. The call to action in the ad should be "Connect in Messenger".
We ran these ads driving to an external landing page - the conversion rate to a lead is terrible. Rather, people just want to talk to you right now and don't want to leave Facebook. You'll get a lot more leads if you optimize your ad in this case for Messages over any other goal.
That means when people click the ad, they can just start chatting with you.
When they do, here's the script….
"I'm happy to help you sell - can you tell me a little more about your situation and why you want to sell?

"Can you tell me a little more about the condition of the home?"

"Where do you plan on moving when you sell"

"May I have the address so I can look it up to see the possible value?"

"What's your best email where I can send you business documents?"

"Would you be open for a phone call to talk about getting it sold? What's your phone number?"
And there you go - with a quick chat you now have motivation and all their contact information.
That's basically how a conversation should go with anyone who reaches out to you from the ad on Messenger.
I won't parade examples of this working in front of you. Ask yourself the question - does this type of ad makes sense?
Is it targeting homeowners only? Yes.
Is the message solving a problem? Yes.
Is it a personal video that connects? Yes.
Is it easy for them to respond? Yes.
Do you tell them exactly what to do? Yes.
Would YOU respond if the roles were reversed? Likely, yes.
So yes, you have yourself a winner! I will put this ad strategy next to any other "seller lead generation" ad in the industry.
It will beat them for quality of seller lead and ROI to commissions within 90 days (not 2 years) since most of the people who will respond will want to sell now. That's the beauty of a primary offer message.
And guess what - not one "funnel" you have to build, no expert you have to pay to write 100+ complex campaigns, nor is there the time and money drain following up with seller leads from secondary offers (i.e. get your free value report). Just 1 simple ad to the right list done right.
If you want to know how well this ad has worked, and you'd like to see screenshots of the ROI in Facebook accounts - email me frank@getvyral.com and let's talk about it. I don't want to post that here, and FB frowns now on screenshots posted from the ads manager publicly.
Next week, I'll cover how to do cold, outbound email campaigns to homeowners to ask them if they want an offer on their home to further generate seller leads to build your database.
Then, that will conclude this months's theme of building your database of sellers.
If you're not a client, please read our Official Video Marketing Plan to stay in better touch with your current database and request a Free Strategy Call about working together.
You can see pricing and how it works on our site. This is where you start.
You can also read our helpful blog with examples, training, Q&A and watch in-depth client interviews about their story and results for free.
If you're a client, I hope you're enjoying these tips to get more results with us.
You can go deeper with me in my Database Marketing Course add-on project that officially starts January 2020. You'll fully implement a complete database marketing plan to grow your business at the highest levels as a client.
I'm also teaching an add-on Recruiting Marketing Course starting in January 2020, too, if you're looking to add real estate agents to your team or brokerage with helpful videos, social media, workshops and more.
Have a wonderful weekend!
Sincerely,

Frank Klesitz, CEO
Vyral Marketing