You'll learn how to optimize your video on YouTube to get found online.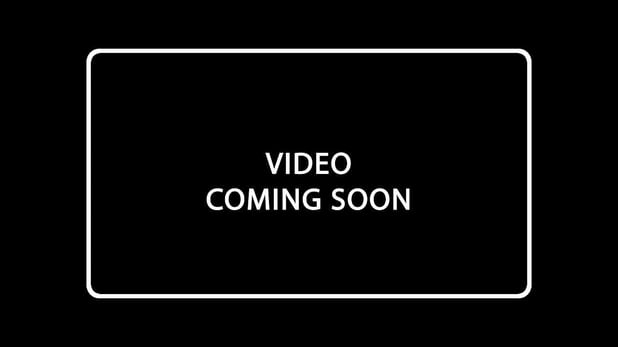 Have a marketing question? Email frank@getvyral.com. I will answer it. If we pick your question to publish, you'll get a free marketing book shipped right to you.
Q: John, a real estate agent in Phoenix asks, "What's the best YouTube video title strategy for SEO [Search Engine Optimization]?"
A: Thank you for your question, John! I'm going to send you a free copy of Predictable Revenue - it's a book that really changed how I think about scaling a sales team. It's about specializing outbound, inbound, the people to do new client consultations, and the account managers who keep your client happy and successful. It's how we organize our team here at Vyral Marketing, and it's how I recommend you do it, too.
Now to answer your question, when we started our firm back in 2009 our strategy was to put the keyword phrase at the start of the video, followed by the title.
For example, your video title would be "Omaha real estate agent – Home buyer tips". This was super effective. We got your video ranked for the keywords you wanted, fast.
This does not work as well as it did before.
The results are mixed. It could be seen as keyword stuffing since the main keyword phrase really isn't what the video is "about". It's also passé. It's also been 10 years! (We're celebrating our 10-year anniversary at Vyral Marketing this June).
Let me share our current strategy today…
Pick a keyword phrase that's related to your topic
Let's say you want to answer a question about how to handle a multiple offer situation on a home. Go to YouTube and type in "multiple offer". You can see what people are searching for in the suggestions box.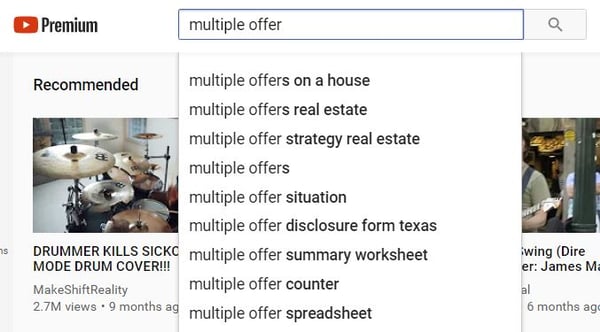 The #1 phrase here is "Multiple Offers on A House." Let's use that phrase since it's relevant and near the top of the suggestions. When in doubt, pick a phrase relevant to the point of your video.
Name the video that phrase when you upload it to YouTube
Don't keep the file named, for example "VID001.mp4", when you upload it. Name the native video file the phrase you're going after. In this case, we rename your file to "Multiple Offers on A House.mp4" and upload it to your YouTube channel. This is an extra trick so YouTube knows what your video is about.
Work the keyword phrase into the YouTube title
We title your video as a question with the target phrase worked in. We find Q&A titles work best. For example, your video would be titled "How do I buy an Omaha home with multiple offers on a house?". Ideally, keep the title under 70 characters so it's not cut off in the search results, but that does not affect SEO. Keep the question phrased as natural as possible while the keyword phrase still makes sense. Extra credit if you can get the keyword phrase closer to the beginning of the title, rather than near the end of it. If you're working a local niche, like a real estate agent who works one city, work the name of the city or area into the title where appropriate.
Explain what they will learn in the description
Write a sentence or two in the description about what the viewer will learn along with a Call-to-Action link to your blog. We link to the blog post where your video is embedded with an article we write for you. Work your main keyword phrase into the description. The best descriptions start with "You'll learn…". An example YouTube description, in this case, is "You'll learn how to make the winning offer on an Omaha home when there are a lot of people trying to buy it. You'll also learn how to handle the situation if you're the one selling your home here in Omaha, NE. If you're dealing with a multiple offers on a house here in Omaha, this video is for you." Again, if you can work local keywords into your description, all the better.
Put a few tags in the video
Shoot for at least 8 words or phrases that relate specifically to your video. Put those words in the "tags" section of the YouTube video. Your first tag should be the main keyword phrase you chose in step #1. In this case, we could choose "Multiple offers on a house, Omaha houses, buying a home, home purchase, negotiating an offer, best home search, multiple offers, search Omaha homes." Pick words that are specific to the video – the more specific (i.e. long tail) the better. If you want to get fancy, Tubics offers a free YouTube tag generator. It will suggest relevant tags for you.
Custom thumbnail
We make a nice custom thumbnail that stands out so people click to watch the video.
Get it captioned on Rev.com (Bonus)
We don't do this as normal procedure, but if you want Google to fully "read" the video to maximize your chances of showing up in search engines, you want to get it captioned.
Rev.com can do it for $1 a minute. We'll create a Rev.com account for you with your card attached and order the caption file. We'll then add it to your YouTube video. This is upon request.
And that's it! That's what you can control to get your video to show up in search results. The rest of the algorithm is how long people watch your video, back links to your video from other authoritative websites, how many people watch it, comment on it, share it, and more.