Real estate clients and friends,
I figure it's a good time to talk about new revenue sources to smooth out inconsistent real estate commissions on the heels of the US stock market dropping 10% last week.
Have you ever thought of a joint-venture with a local property management company?
I think this is a "must-do" as a real estate agent. Everywhere else around the world brokerages provide this to smooth out revenue, but not here in America!
How many times do you get the objection "I want to rent it instead of sell it"?
It's also no secret home-ownership is down in America. We're becoming a nation of renters.
Our clients, Adrienne and Attilio in Hawaii, partnered with a local property manager and helped him with this property management blog: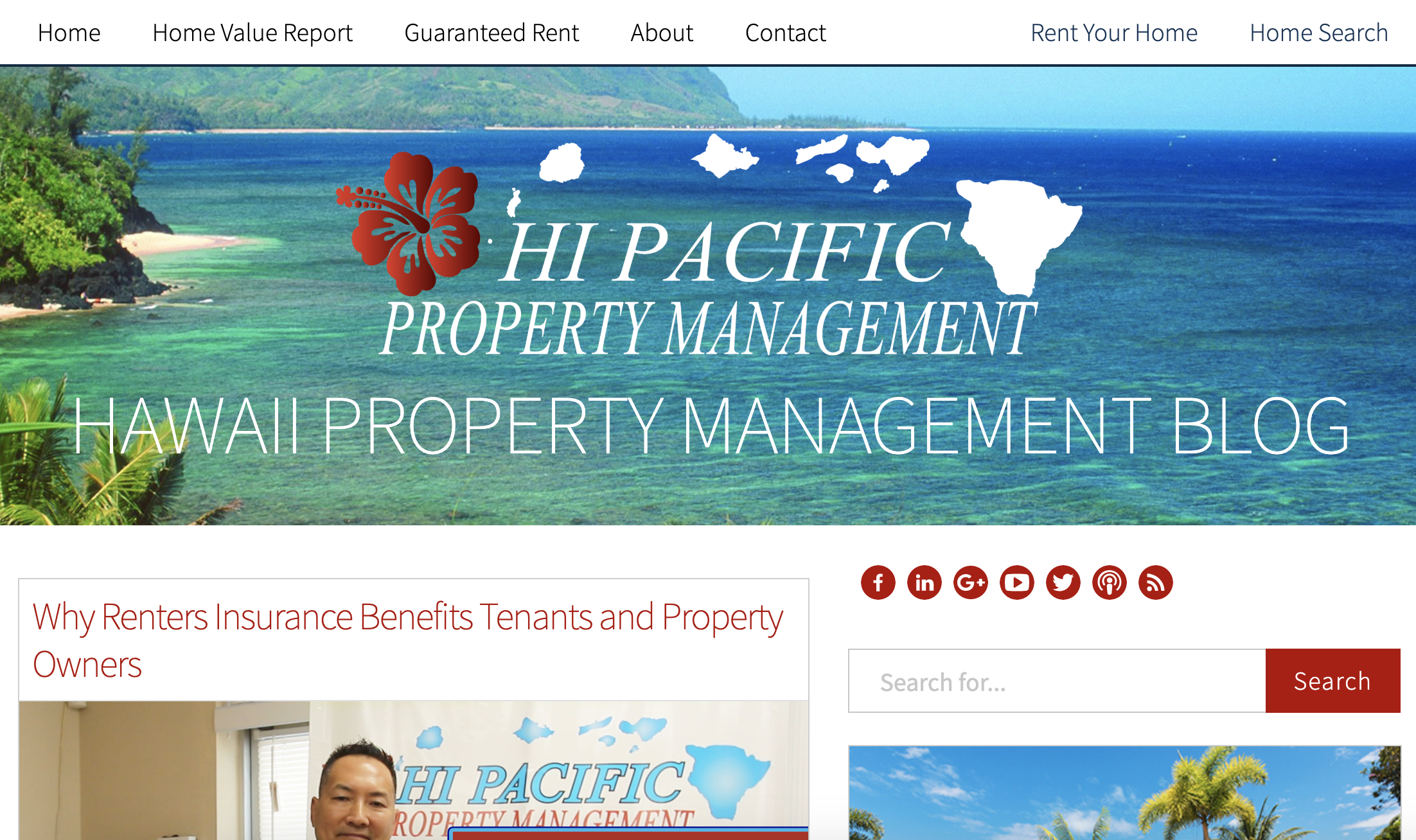 They went from zero to 670 properties in 6 years! They confessed to me it's more profitable and consistent than their real estate sales business.
We charged an extra $1,000 to build it and $275 a month on top of the current fee. We'll do the same for you as a current client.
It's really simple to get property management business. It's like really simple.
You hire a VA to lookup the owners of every new rental that comes on the market from Zillow, Craigslist, and Facebook Marketplace.
You can find LLC owners on OpenCorporates and skip-trace the owner contact information with Microbilt Enhanced People Search (the bees knees) or use BeenVerified.
I'd also ask the VA to put them all directly into a CRM ready to work.
Your property manager will now have a steady stream of new leads daily to call.
You'll have your property manager reach out to let the landlord know you're there to help if they are sick of managing it (or sick of their current property manager).
Add them to your database so they get your two videos a month and monthly item of direct mail (we create this for you).
I've owned rental properties for 15 years and never, not once, have I had a property management company call or write me for my business. Never, not once.
I've likely had a new property come up for rent every month for years - and the name of my LLC that holds the rental is Klesitz Realty LLC. Not hard to find me.
A profitable property management company will charge about 10% of the rents, and then keep for themselves all the fees charged to tenants (online payment fees, late fees, bounced check fees, pet fees, application fees, etc), according to local law.
Call local property managers in your city and get copies of their management agreements.
You can just model those. It's also good to see what competitors are charging, how they mark-up repairs, and how they play with fees for lower rates. Play prospect with them!
You can also get the 40+ page Invitation Homes lease, but now I think it's just getting predatory at this point.
I'll be real with you - accounting is biggest challenge in the business.
However, you can get a fully qualified, full-time CPA to handle it all (like I personally have) for $6 an hour in the Philippines. She worked for Price Waterhouse doing Fortune 500 auditing….property management is a breeze with software like AppFolio or Buildium.
Also, make sure you have insurance for litigious tenants. That's the biggest risk.
The easiest way to start is enter into a 50% profit sharing agreement with a current property manager who wants to grow. You handle the business systems and marketing.
This all keeps you off the company (no K-1) and away from the liability (I'm no attorney, but I'm pretty sure of this) since you're just a consultant with a profit sharing agreement.
They are the CEO of the business, in the trenches, with 100% ownership getting the work done. You can also opt for a simpler revenue sharing agreement for 10-20% of the top line gross. That way you stay out of the bookkeeping, and there's less risk of getting taken advantage of when your business partner runs his "business trips" to Vegas through or keeps their unemployable brother-in-law or cousin on the payroll. Trust me, I've seen it!
It's up to you. I suggest you meet with them daily to start, and then weekly, like any other direct report in your business(s).
There are a lot of coaching companies who can help you with this. I recommend you talk to Aaron Marshall with KeyRenter. He was a top, top agent in Utah, said "the hell with this", and started a very successful property management business he is now franchising.
He came to our last Mastermind Club meeting. He's also currently enrolled in our Recruiting Course add-on to sell franchises to property managers while teaching real estate agents how to open a property management division of their business.
If you're reading this - you're a top real estate professional. You're an expert at sales and marketing systems. I mean it. That's why sellers hire you. The best marketers in the industry read my blog. Imagine if you applied your skills to archaic property management.
You'll have the #1 property management business in the city.
Let us help you. Contact us if you need a property management blog. We can do it.
I suggest you start by buying a list of local property managers from InfoUsa.com or just looking them up from a Google/Yelp search. Again, you can hire a VA to do it for you.
Call local property managers ask them if they want to grow their business with you. You're looking for the small mom-and-pop shops serving mostly single family rentals, ideally in the $1500+ a month rent ranges so you can make, all in, about $200 a month per home.
Let's break down the steps:
Find a local property manager who wants to grow, partner with them

Hire a VA on

UpWork.com

to lookup the names, phone numbers, mailing address, and emails of the owners of new rental property that come on the market for lease every single day on Zillow, Craigslist, and Facebook Marketplace. You can get property details and owner name with a service called Propstream.

Your property manager calls, writes and emails them to introduce him or herself daily (3 hours a day of prospecting!).

He or she talks to them, adds them to the database, puts them on the

Vyral Marketing Plan

They get two videos a month and monthly item of direct mail with a call-to-action to call him or her when they want more rent, better service, and fatter distributions.

Landlords call you when they are tired of the hassles or their current manager.

Get the property management agreement signed, collect the revenue. Enjoy the consistent income where you "work hard once."
You can also market to the tenants to help them buy their first home. You can also help the landlords sell their homes, or buy more investment property from you!
That's the beauty of co-marketing.....
You'll have direct access to the tenant and client CRM for the property management business. Make sure you cross-promote your services. There are a lot of benefits to this.
Not to mention, it's the property management and insurance businesses in the real estate space that sell for the highest multiples of profit. It's all about the monthly recurring revenue. Some of our clients are licensed insurance agents under an independent broker and get paid on the homeowners insurance policies when a home closes - and every year it renews. With downward pressure on real estate commissions, you have to make it up on ancillary services and transaction fees at closing (you disclose to the client!)
I want you to know we're here to help you with this. I know a bit personally about property management, but there are a bunch of coaching companies who can help you with the business side of it.
We can help you with the marketing to drive the business forward....
Let me know if you're interested.

Frank Klesitz, CEO
Vyral Marketing
P.S. Exciting things to come with Mastermind Club! Our next meeting is March 26-27th in San Diego. We just launched the podcast to help members and guests get to know each other. The teaser is up, with a great story on how Spring Bengtzen in Utah doubled her business with the help of Mastermind Club and the Recruiting Course add-on. We just got our federal trademark, too! Let me know if you're interested in coming to a meeting…