Yes, it's true.
We reverse the risk for you.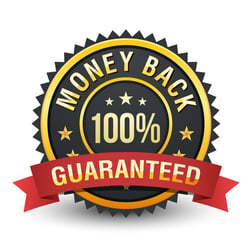 Your $1,995 build fee and your first two months of service are fully refundable, for any reason, within 90 days of signing up.
We want to see you earn an additional $75,000 a year (10x ROI) from the appointments you book from the people clicking links to watch your videos and the leads we generate from your monthly campaigns. You'll know if you're on track to reach this goal in 90 days. If not, cancel and get all your money back.
You keep the full rights to anything we create for you (your video blog, animation package, and more).
Here's why we offer this:
You'll be able to feel what it's like to be on camera, and if you like it.
You'll get to work with us quickly so you know if we're a fit for you.
You'll see what results come from your first videos and lead-gen campaigns.
You'll be able to test our service to make sure we deliver as promised.
You won't be out any money if you're not happy, for any reason.
You'll be protected if "life happens" and it's not a good time to commit to the program
The full 90-Day 100% Money-Back Guarantee language is in our agreement.
There are no strings attached or any "catch". Just let us know if you would like a refund before your 90 days are up. Your $1,995 and all additional money charged will be refunded to your credit or debit card within one business day.