We offer 100% remote digital marketing jobs with our advertising agency. We help entrepreneurs in professional services stay in better touch with their database using video, social media, email, and direct mail. We are a 100% work-from-anywhere company. We hire (1) Friendly, (2) Proactive, (3) Coachable, (4) Curious, and (5) Intelligent people with a great (6) Work Ethic. We're also looking for those who can grow into a leadership role, too.
Our Mission & Vision
We implement education-based direct response marketing for entrepreneurial professional service providers (real estate agents, business brokers, mortgage professionals, etc) building their own businesses on 100% commission. It's a painful, yet rewarding journey for them. Our clients - after enduring the pain/rejection of cold calling, losing money on traditional advertising, or being stuck in place working by referral only - hire us to help them get comfortable publishing videos, emails, letters, and social media ads to attract (not chase) new clients. We deliver financial peace of mind with a new client attraction system that's not financially risky or emotionally exhausting. They pay us to do most of the work to help them out. We stand behind it all with a 90-day money-back guarantee (which we actually enforce). If you enjoy working with business owners, get excited about reducing entrepreneurial uncertainty, enjoy the craft of influence, and take pride in demonstrating or telling others about your work - we are the place for you. We've built a culture where you are safe, protected, understood, and valued to do your best. We all support each other and have a terrific training program to get you up to speed. Our vision is to inspire 1,000+ business owners to earn more money (with less stress) by implementing a great marketing system. Our purpose is to reduce our client's entrepreneurial anxiety and help them relax by generating a steady stream of new business with minimal risk and relative ease. Our mission is to help our clients grow their business and build a great firm that attracts, develops, excites, and retains exceptional people. We want to be known as the most helpful agency in our space where we get the call when someone needs help getting new clients. Please tell us how you feel about our mission and vision when you interview.
Core Values
1.

Proactive

- We anticipate needs
2.

Helpful

- We do the work for them
3.

Growing

- We improve our skills
4.

Friendly

- We are positive and optimistic
5.

Effective

- Our deliverable works
6.

Integrity

- I can trust them
Meet Our Hiring Managers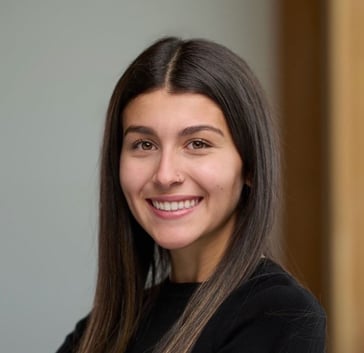 Amanda Kellari
Phone: (531) 214-4828
Email: amanda@getvyral.com
---
Please review our hiring process
Stage 1: APPLY: Please apply for any position on any online job board posting. It all goes into our central applicant tracking system.
Stage 2. PHONE SCREEN: Once we approve your resume, we'll call you for a quick initial interview. This takes about 10 minutes. We'll ask you how you feel about our mission and vision. We'll try to reach you three times by phone, email and text.
Stage 3: VIDEO INTERVIEW. This is your chance to share why you're the best fit for the role. Give us stories, provide specific examples, and show us numbers or reports of what you have accomplished. We want to know your life journey and what you want for your future. Please bring the name, phone, and email of your past two employers in order to the interview. This is about 30-60 minutes on Google Meet. Please come prepared to make your case. This is our time to really listen to and understand you.
Stage 4: PRE-EMPLOYMENT TEST: You'll complete (5) 10-minute tests to measure your communication ability, leadership potential, critical thinking/problem-solving skill, and your core values. You will get an email with an invite to take the assessment.
Stage 5. REFERENCE CHECK: Please introduce us to your past two employers so they expect our phone call. We will call them to verify what you say in your interview. We're looking for more of a personal connection and love for the candidate, rather than checking off boxes on performance and skill. Download our past employer reference check questions.
Stage 6: FINAL INTERVIEW: You'll interview the person whom you'll report directly to that's specific to your role.
Stage 7. SKILLS AUDITION: We'll audition you for the role by performing a simple task that takes less than 30 minutes. You may edit a video, write an article to summarize a video, put together a video email, make a few calls to old prospects, or just write a page on why you want the role to see how you write. We will not use your work. You'll be invited into a Google Drive folder with instructions for your role to prepare. You'll schedule a 30-minute audition time where you'll share your screen with us to perform your work.
Stage 8. CONDITIONAL OFFER: You'll get a conditional job offer with your pay and benefits in writing if the position is still available.
Stage 9. BACKGROUND CHECK: Background check completed, only if you accept the offer.
Stage 10. 90-DAY PROBATIONARY PERIOD: Start the first week of shadowing and onboarding to get up to speed quickly for your role! You'll be on a probationary period for 90 days to measure your productivity. We have an excellent training program to get you up to speed on your very first day with 30 days of peer shadowing.
Complete HR onboarding (before first day)

Complete a new employee welcome course (first day)

Complete a training course for your specific role (second day)

Assigned a 30-day shadowing partner (attached to their hip)

Invited to daily meetings on Zoom for your department or direct report

Invited to weekly and monthly company meetings
Meet our Team
How are we doing for you?
Employee Feedback Survey
Please let us know if you strongly agree, strongly disagree or you're somewhere in the middle.
I know what is expected of me at work.
I have the materials and equipment I need to do my work right.
At work, I have the opportunity to do what I do best every day.
In the last seven days, I have received recognition or praise for doing good work.
My supervisor, or someone at work, seems to care about me as a person.
There is someone at work who encourages my development.
At work, my opinions seem to count.
The mission or purpose of my company makes me feel my job is important.
My associates or fellow employees are committed to doing quality work.
I have a best friend at work.
In the last six months, someone at work has talked to me about my progress.
This last year, I have had opportunities at work to learn and grow.