This blog post is for everyone who attended the RATE event in Nashville.
Chip Hodgkins needed more listings. So, we reactivated 39 high-quality seller leads in his existing database with their full name, property address, phone number, email, property condition, motivation, and selling timeframe. See the email that worked for Chip below.
It was great to see so many of you in Nashville for the RATE Mastermind this past month. Katy and I just moved here in July last year, and we love it. It was nice to drive to the event without having to book a flight!
This is the premier meeting of the year for me as it's attended by all the top agents in their respective markets in one place. Many of you I've known for years. Billions of dollars of real estate have been sold in this room.
Here are a few photos: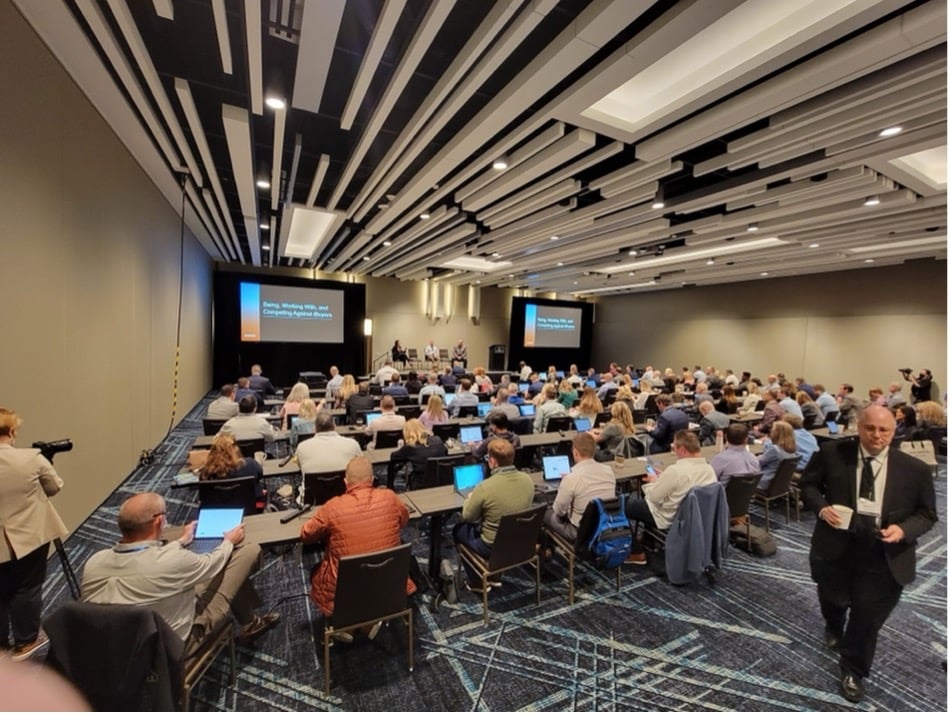 Inside the meeting room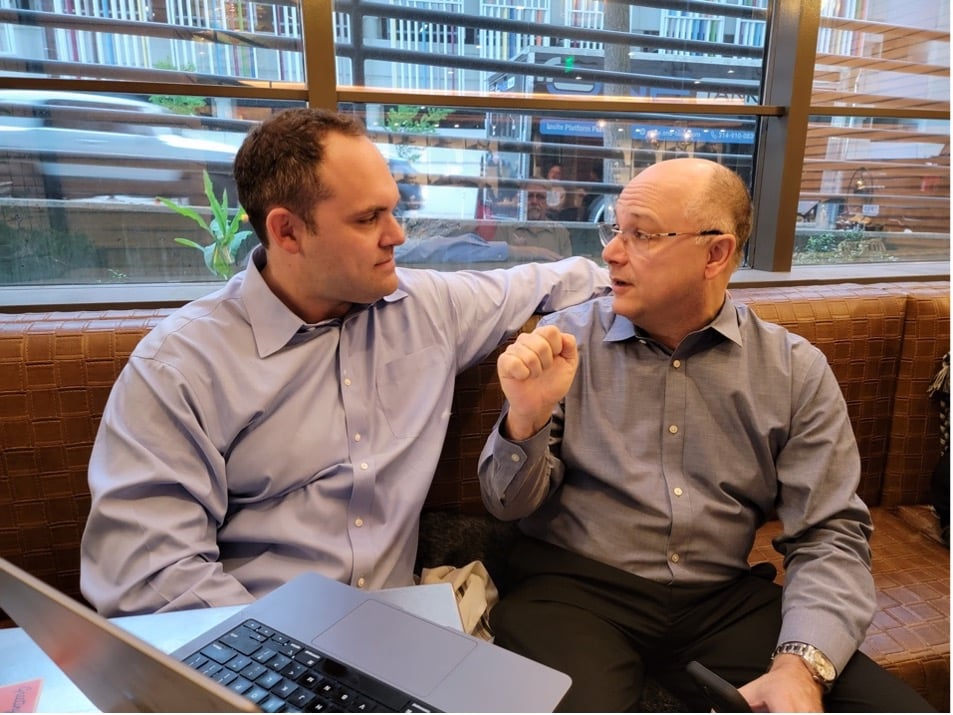 Breakfast with Matt Wagner, the founder of RATE
Hanging out at my booth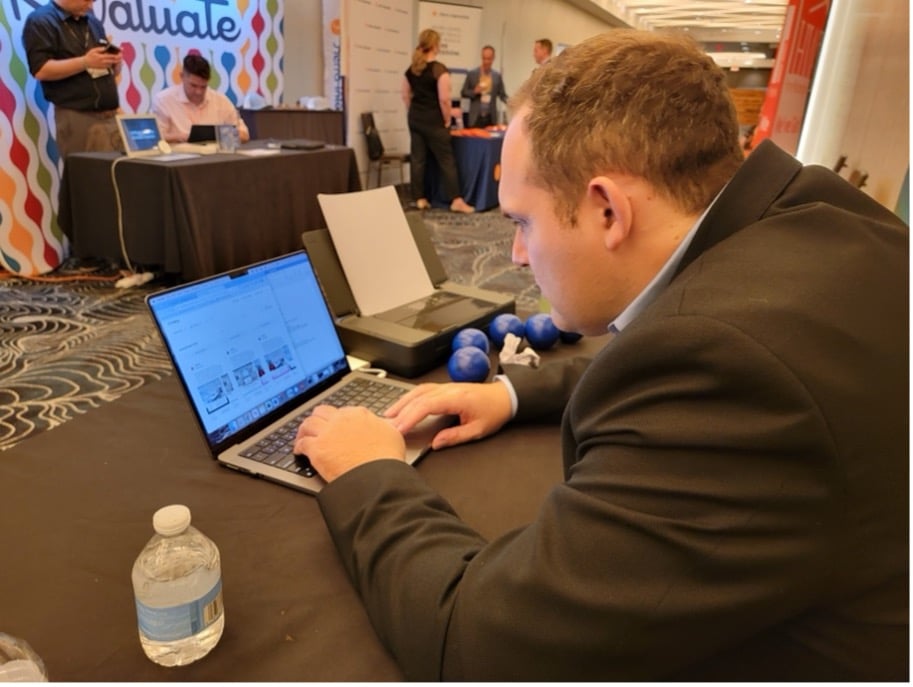 Writing seller lead-generation emails for RATE clients
I want to thank Matt for letting me hold a pre-event workshop before the meeting started on Monday. He asked me to share how Vyral Marketing clients can use their radio or TV endorsements in their database marketing to generate more seller leads.
Because Matt puts your endorsement on radio and TV, we're the perfect complement to get more juice from it by putting it in front of your existing list, too.
Here's an example of an endorsement TV spot with Barbara Corcoran from "Shark Tank" endorsing our client Chip. Matt hooks these up for top agents around the country.
We had a packed room for my pre-event workshop!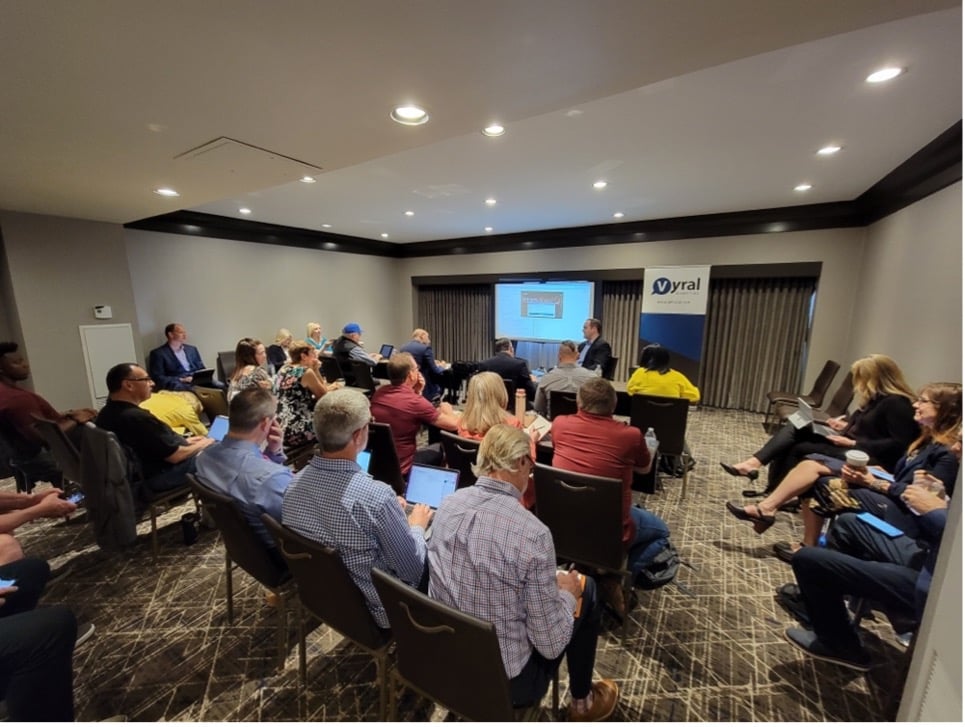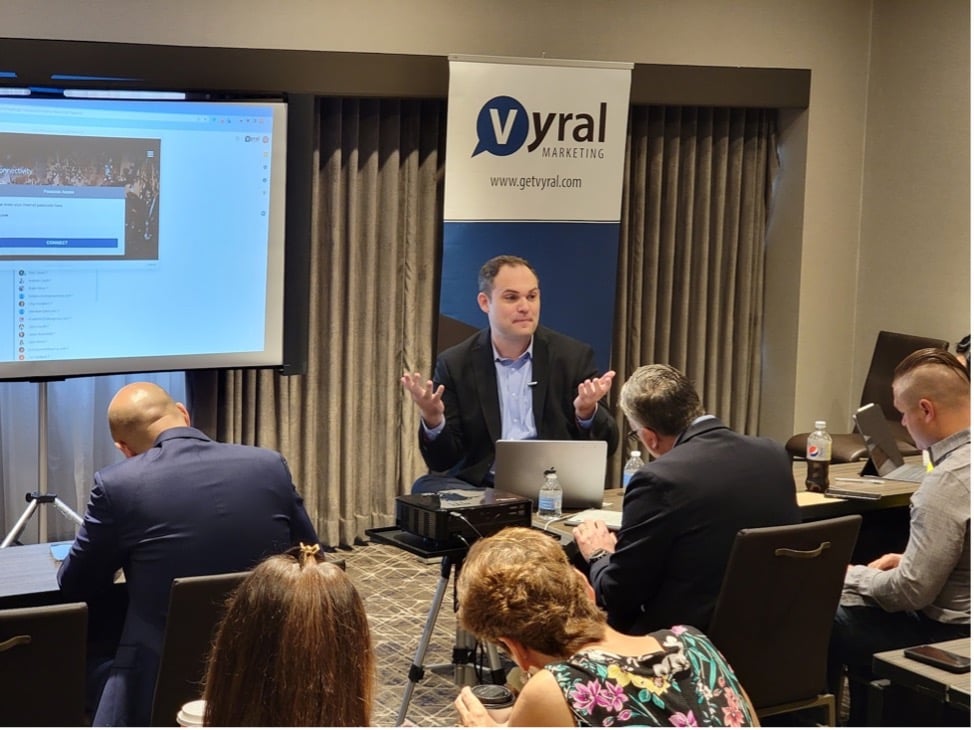 I covered four ways to get more runway from your endorsement if you hire us to run your current 36-touch program. We do everything for you, which I'm going to share below. This is just part of our complete core database marketing service.
You can watch a more detailed version of this workshop here.
Let's get down to it…
Top 4 Ways to Use Your RATE Endorsement
1. Facebook/IG database retargeting seller lead-generation campaigns
You should run a seller lead-generation campaign with a Facebook and Instagram ad that retargets your existing email database (among other warm Facebook audiences). You'll first want to pick a proven seller lead-generation offer that consumers want.
The most popular offers for listings are:
Get a Cash Offer on Your Home Today
Request a Free Pre-Listing Renovation Estimate
Find Out What Your Home is Currently Worth
Get a Free Ticket to My Home Seller Workshop
Because we're in Nashville and most of the agents in the room know Mark Spain, who has arguably the #1 real estate sales team on the listing side in the Southeast, I shared links to a few of his ads on social media and a few of his billboards that I saw driving up I-65 to attend the event.
He likely spends millions on advertising, so it's worth paying attention to the messages he's putting out because they likely work very well. I pulled over to the side of the road and snapped these for you.
Here they are: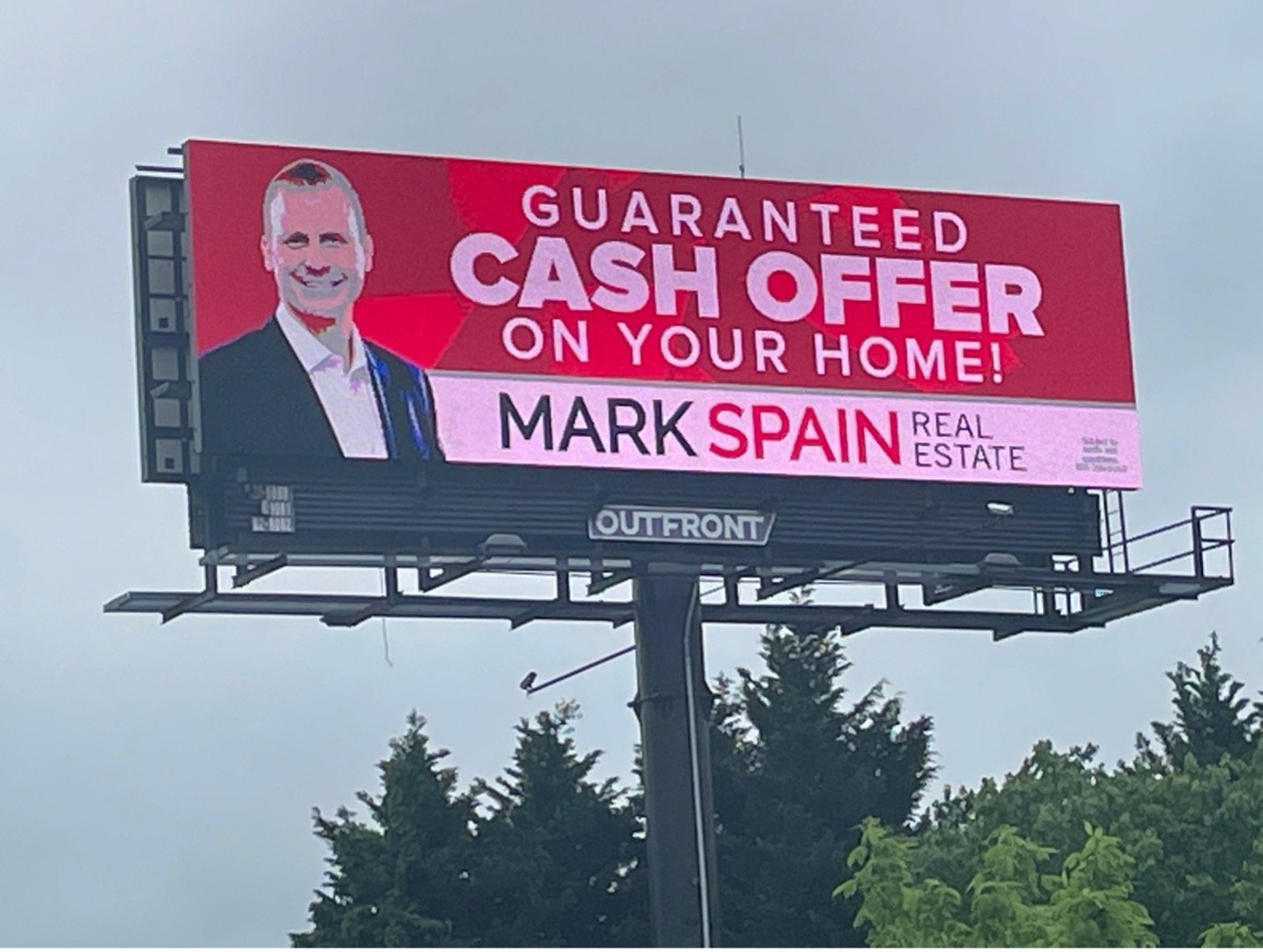 This is how he generates seller leads and likely flips them to traditional listings after reviewing the cash offer with the seller, which is likely more expensive.
This is how he recruits agents at likely very favorable splits since he books their listing appointments.
I showed those in the room how to go into their Facebook ad account and first set up their warm database retargeting lists, which should include:
Everyone who visited any of your websites over the past 180 days
Everyone who has engaged with your FB page over the past 365 days
Everyone in your CRM database who has a matching email address on Facebook
Those are the first three audiences I would advertise any of the above offers to, with the ad creative being your commercial produced by RATE.
Here are example ads we will run for Chip Hodgkins, who's been a Vyral and RATE client for a long time: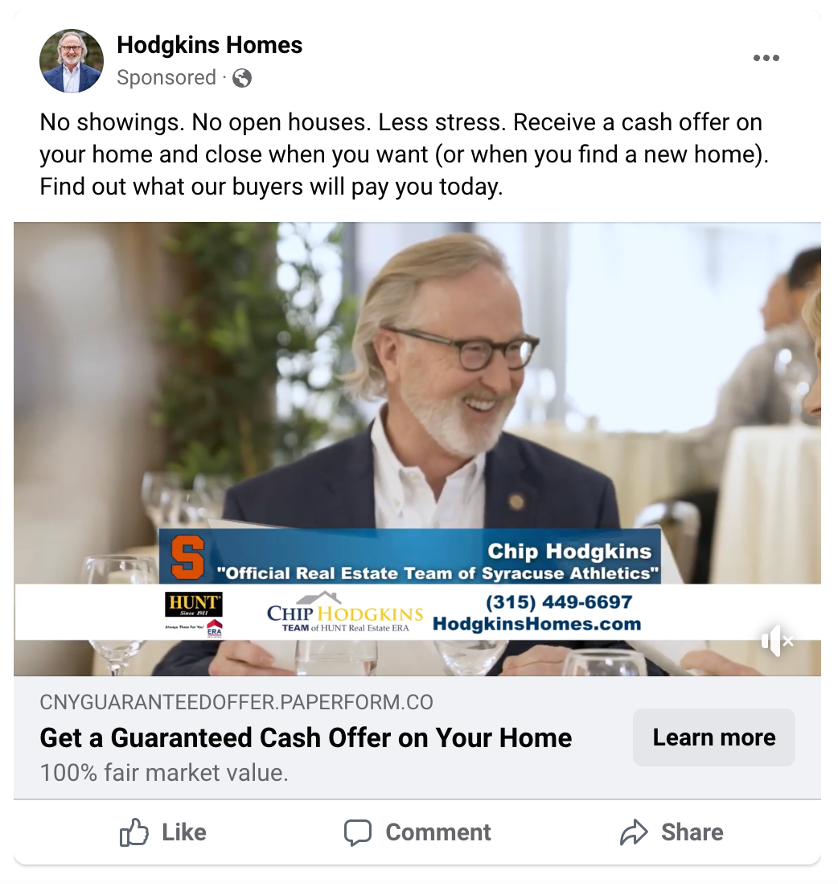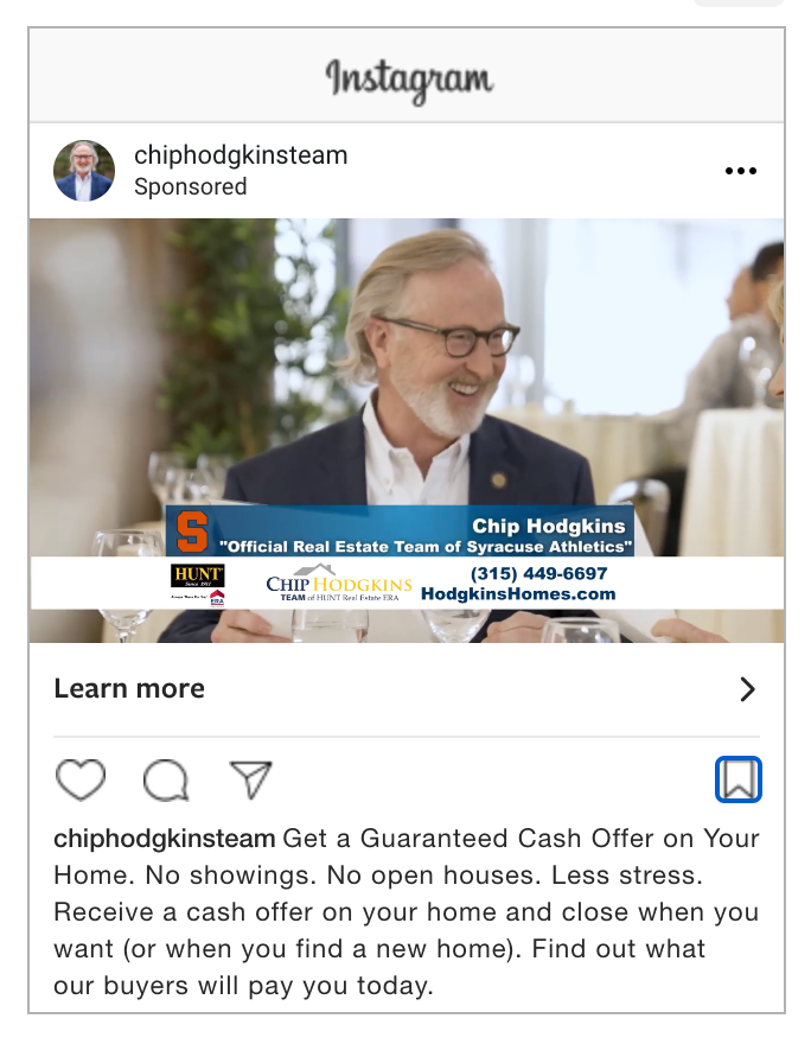 Chip is waiting to secure a relationship with an instant buyer where he lives in Syracuse, NY. There are many ways to do that. I recommend you check out www.irealestatepro.com to learn how to run a Guaranteed Offer program.
When the ads are clicked, it will drive to a Guaranteed Offer landing page to capture information. There are several questions on the form, which lets you get a higher-quality lead. Ask for contact information at the end, not at the start. This improves lead conversion.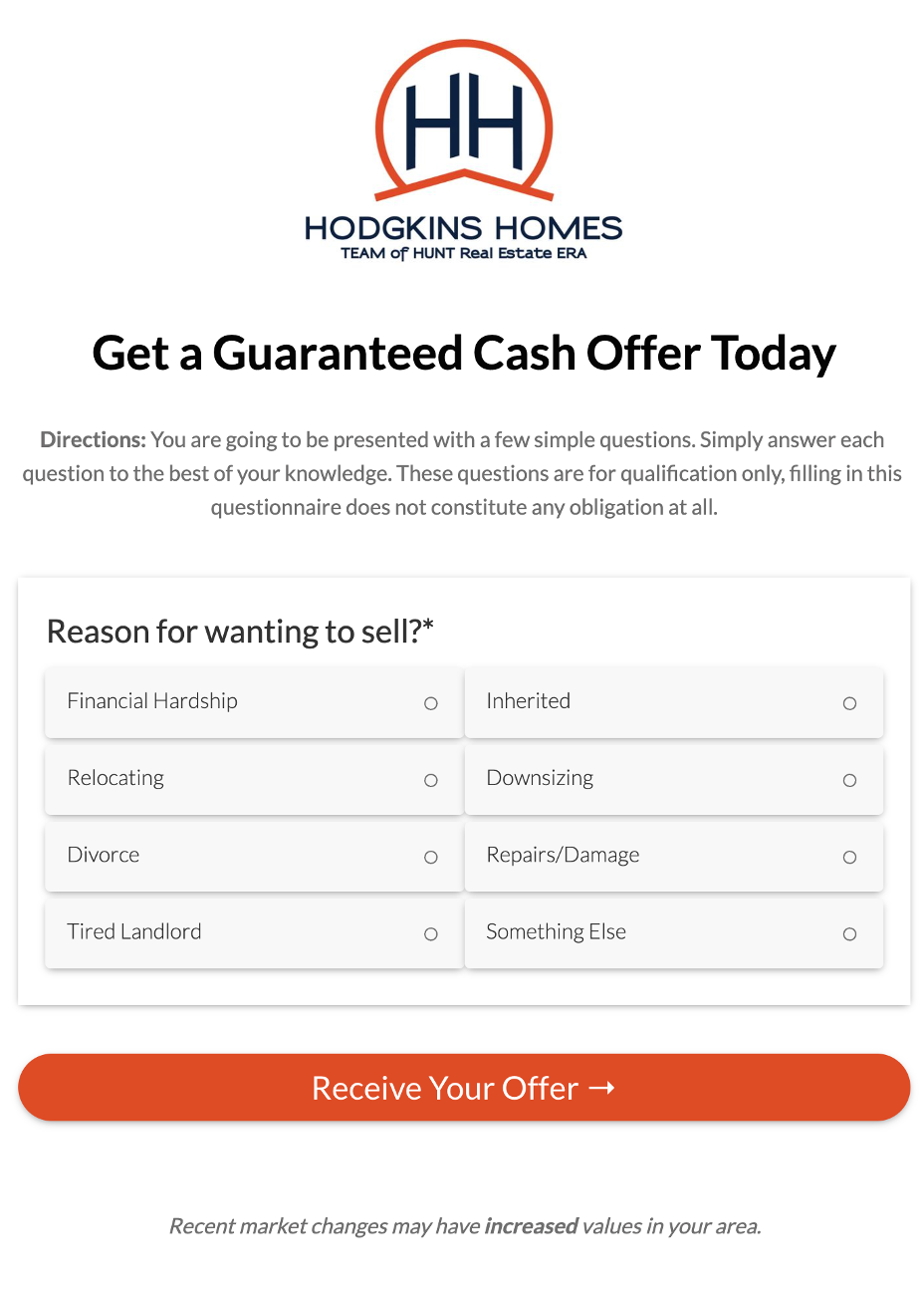 We also pulled a lot of great Guaranteed Offer seller leads for our client Jeff Cook in Charleston doing this three years ago. I share this with you to illustrate that the message rarely changes; only the media that you use may change.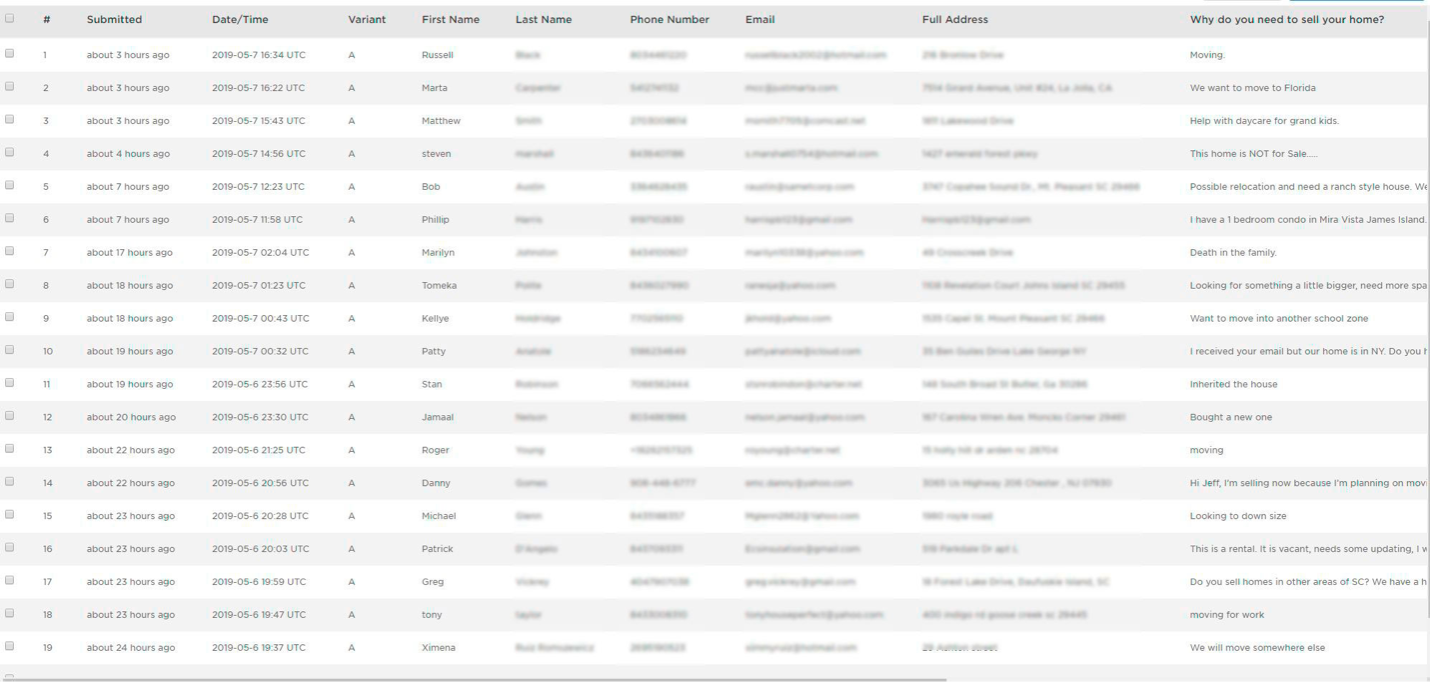 You'll want to set a budget to reach your audiences four to six times over 30 days. For many of you, $10 a day may be enough if we just start with your warm audiences. You are the biggest agents in the county, and I'm sure you'll have a larger-sized list to retarget than most agents. We only recommend $1 a day to them.
We have these Facebook and Instagram ads for you on our Client Website. Just swipe and personalize. Use your RATE commercial or selfie photo with your talent from the event when it asks for your image or video in the ad. We set this all up for you.
If you get good results from your warm lists to start, you can scale up the message and run it to your entire city, which one client has done. In that case, our client was happy to spend $3,000 to get a deal. This was the maximum allowed Customer Acquisition Cost. We set her Facebook ad budget for $100 a day across the city, so if they got one deal a month, they would be happy.
In this extreme case, which I'm presenting to illustrate how a message can be effectively scaled up, they spent $20,280 over six to seven months and generated 269 cash offer leads with the same ad copy and landing page you see above (at a cost of roughly $75 a lead). She ended up getting 12 of those sellers to close at the time of this writing. If you do the math, she only spent an average of $1,666 to get each deal, which is a great return on investment. Many of these, in fact, turned into long-term rental properties bought below market value.

To be clear, we don't recommend this level of social media advertising spend at Vyral Marketing. Keep your Facebook ad budget at about $1 a day to your warmest audiences. For those of you in RATE with huge databases, maybe an exception of up to $10 a day for you. There are many other things I would put in place before risking $100 a day on Facebook ads running to the unwashed masses of your entire city (like hiring someone to call the people clicking the links in your email to invite them to events or to scheduled phone calls with you).
2. Monthly seller lead-generation email to your database with your endorsement
Now that you have your database retargeting ads set up with a strong seller offer that features your endorsement driving traffic to a landing page, it's time to send an email out to your entire database with the same message. We recommend sending one lead-generation email like this each month to your list. This is in addition to sending out two helpful Q&A videos per month so that people get to know, like, and trust you. This is all part of our 36-touch database marketing service.
Here's an example of a seller lead-generation email with a different offer (Get a free home value estimate) that we put together for Chip as he waits to line up his Guaranteed Offer relationships. It invites people in his current database to find out what their home is now likely worth. This is easy for him to deliver on right now.
You'll notice in the email that we reference an "oops" because the first email went out with an incorrect link due to a miscommunication. We fixed the problem, and the "oops" email performed almost as well as the first! Below is what went out last week to his list.
WARNING: You do not have permission to use this email unless you are a client.

You'll want to send a lead-generation email like this to everyone in your CRM(s), your Gmail contacts, your Outlook contacts, everyone in your cell phone, all of your home value leads, and more once a month. You'll export all those lists, we'll run them through Neverbounce.com to clean them up, and then we'll start the full 36-touch plan. One lead-generation email like the one above is part of our plan every month. We have several of these written for you on the client site with various offers for seller lead generation.
All of the traffic from your email goes to the same type of landing page where someone can put in their information. Your endorsement goes in the email, too, which in this case was his Syracuse University Athletics endorsement. We will also feature your radio or TV celebrity endorsement in the email if you are a RATE customer. If you don't have an endorsement with RATE, that's okay – it still works without it.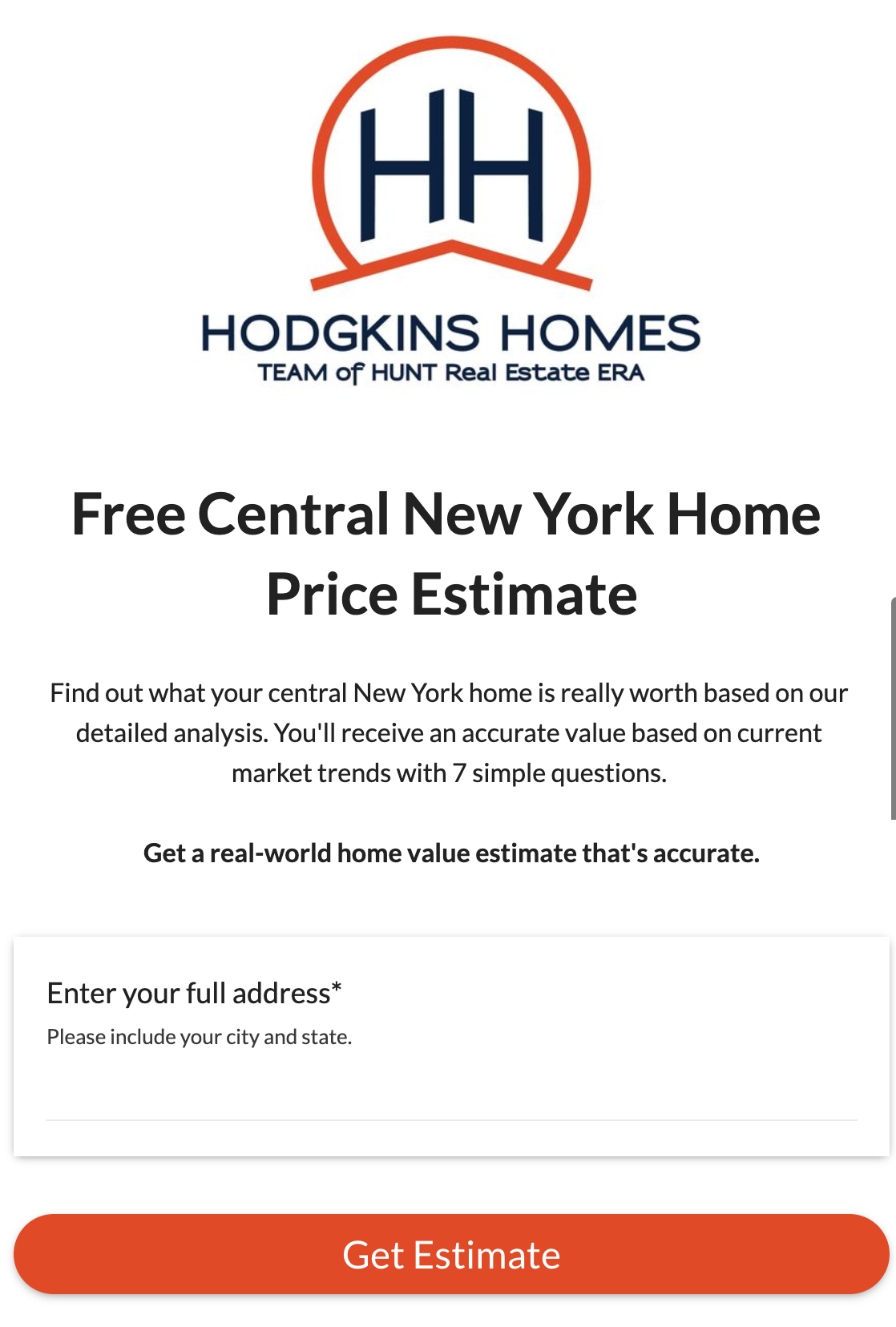 We generated 17 high-quality seller leads with full name, property address, phone number, email, property condition, motivation to sell, timeline to sell, and even if they had an agent already. This information came from all the questions on the form to generate a quality lead for you. Again, the secret is to ask for the contact information at the end of the form. Chip is following up with all of them now to book listing appointments, but it will take time to know the full ROI because the homes need to close. There were another 22 leads generated on the incorrect form from the first email, too! It goes to show you that it's not necessary to overthink this too much.
Here's what your lead report looks like:

Chris Watters in Austin booked 24 listing appointments and took 13 listings from a free home value report message just like this to his database a few years back. Again, I share this with you because the message rarely changes; only the media sometimes does.
Here's what Chris says about the results (he shares his results later in the video)….
Clients – Make sure to talk to your Marketing Coach to get these ads running to your database and a similar email out to your list, and then repeat it every month with a new offer. We do this for you – please make sure you're maximizing the money you're spending with us. Your two videos alone will not generate the lead volume you need to get the $90,000 a year ROI we want you to see.
3. Update the title of your website with "Endorsed by (Your Celebrity)"
This is an easy one, and it comes with an example of a RATE celebrity endorsement - Dave Ramsey!
When people hear about you on TV or radio, they are going to Google you. Make sure you have "Endorsed by [whoever]" in the HTML title of your website (example below).
Here's an example of what shows up when you search for Zander Insurance, which Dave Ramsey is recommending all the time on his show.
It's super clear in the search results that you found the right person because I'm sure a lot of their traffic is from Dave's radio show.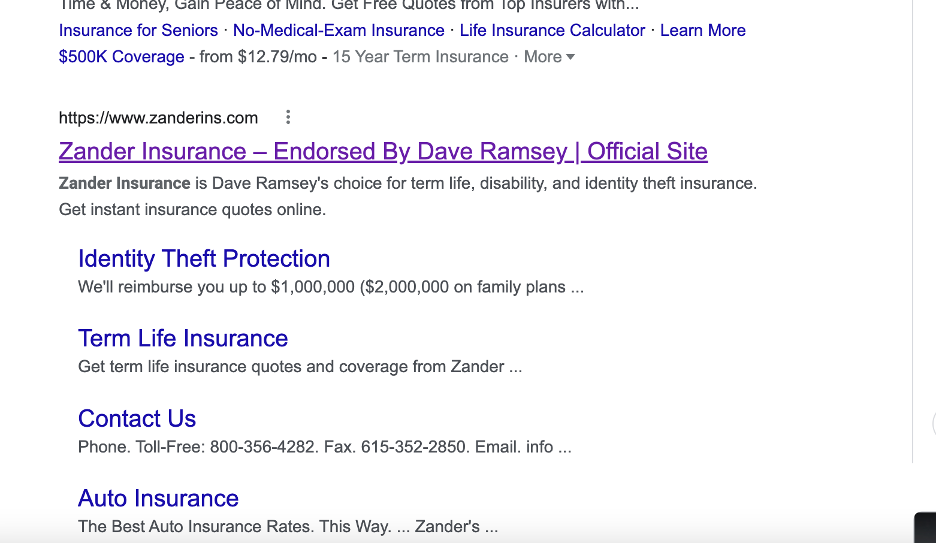 (Note that "Endorsed by Dave Ramsey" is in the website title)
That's something we can easily do with the video blog that we build for you when you sign up. Just ask us to add something like this to the title tag of your website.
4. Page on your website or video blog with Celebrity Endorsements
Create a page on your website with all of your celebrity endorsements. This is what the #1 real estate team in Hawaii (Team Lally) does. This is easy for us to do on your video blog, too. Just send them on over and we'll model the one you see below. This will help with lead conversion because prospects are likely to be considering two or three competing agents before calling you or at least deciding to list with you. All of your endorsements in one place will set you apart. Jon Carbutti, who's been with us for 10+ years, puts them all on the right side of his video blog. We can do the same for you.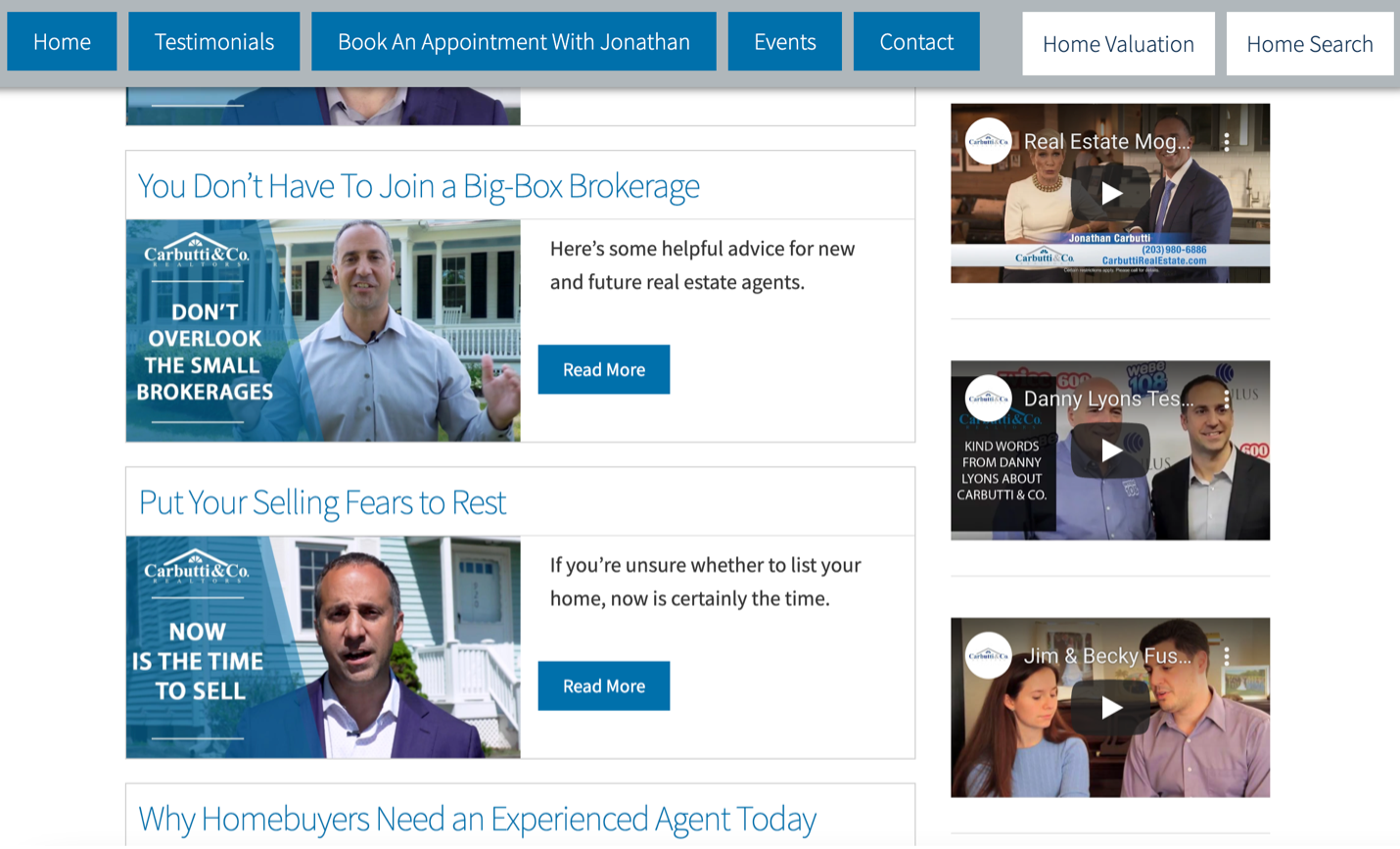 We had a great time with Adrienne/Attilio with Team Lally at the event!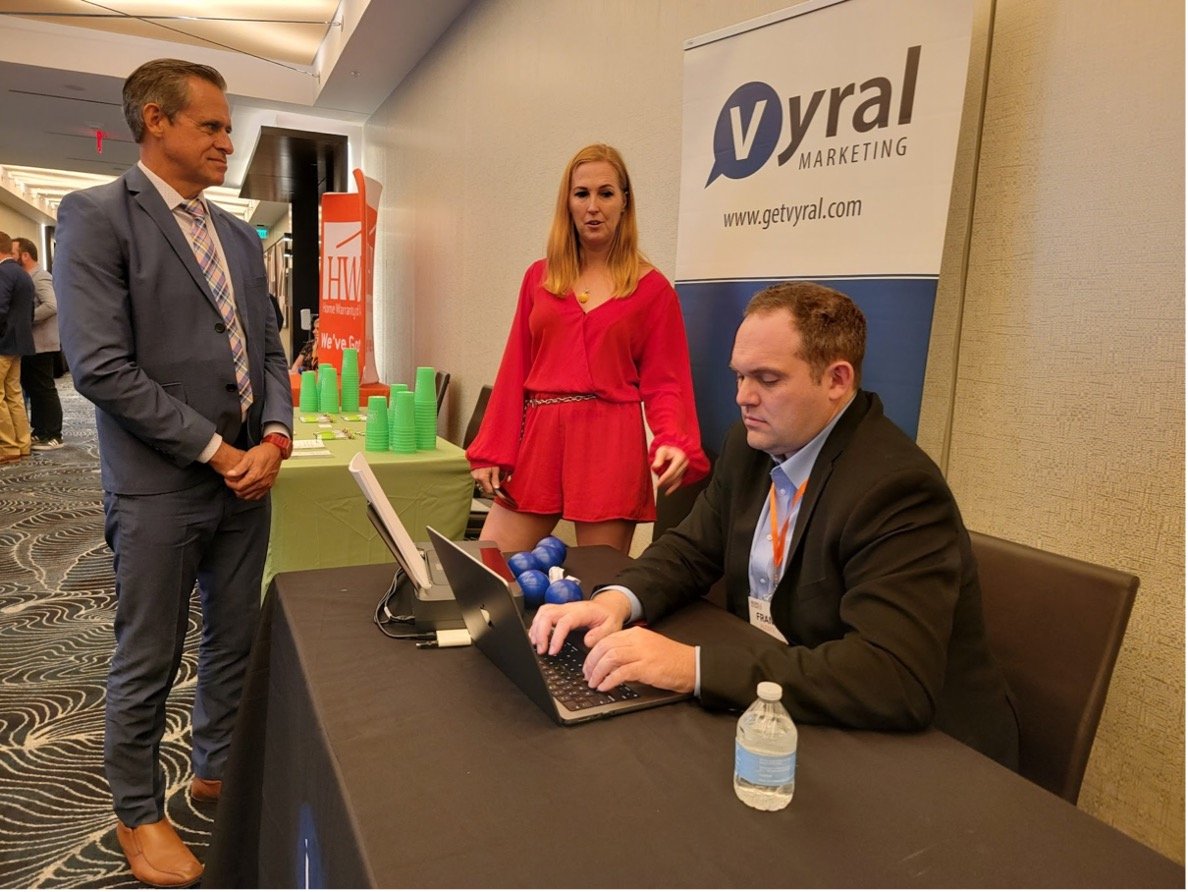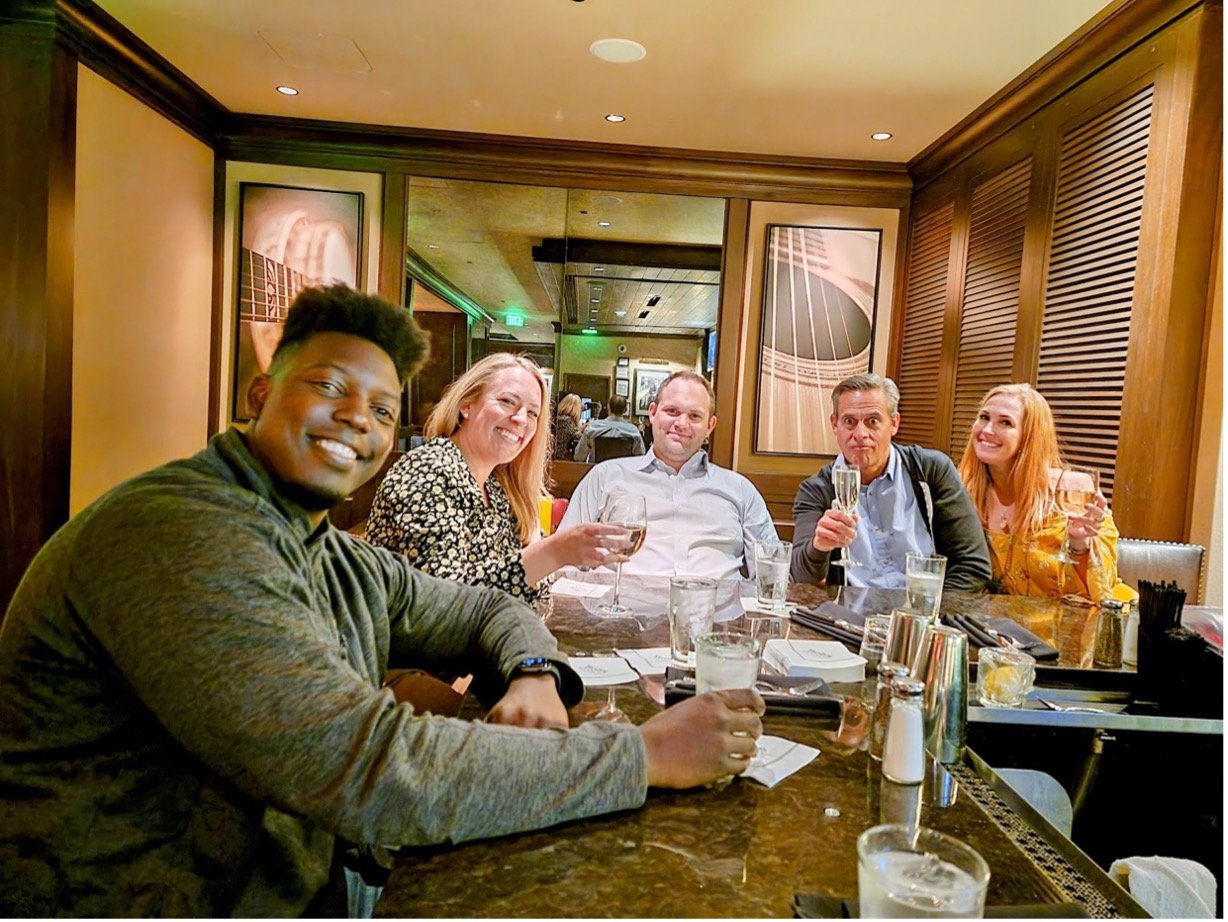 So, that's it – that's how we can help you get more results from your RATE endorsement to generate more listings from your database. The same principles also apply if you're not with RATE or if you don't have a celebrity endorsement. If you can get in with Matt, I suggest you do so right away.
Let's pick some offers homeowners want, put your endorsement on them (if applicable), and get them out to your database with email and a little social media advertising to your warmest audiences.
The cost is very low, and the results are high-quality. Start with that before risking more money or time to reach strangers. It all starts with maximizing what's currently sitting in your database – your existing clients, past clients, sphere, old leads, and nurtures.
Hit us up if you need help with any of this. We're here, and we guarantee our work.
Frank Klesitz
If you were forwarded this message and would like to get my updates directly, click here to join my mailing list.